* We were contracted for 200,000- suspects
By Evelyn Usman
Two brothers: Ayodeji Obadimeji,( 18)  and Saheed Obadimeji ,(19) have been arrested with a fresh human head identified as that of a 10-year-old boy that was declared missing , at Tunde Baogun street, Shepati area of Ibeju Lekki, Lagos.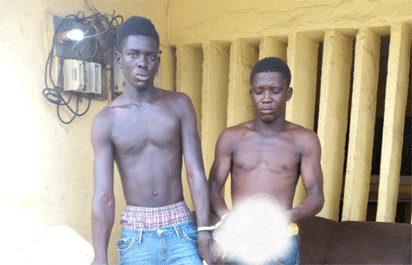 The siblings who admitted to have committed the act, told policemen during interrogation that they were contracted by one Sodiq Abefe, to get a human head, with a promise to pay them N200,000.
Don't complain of migration when there're no jobs for citizens, Emir Sanusi tells leaders
The duo were alleged to have lured the unsuspecting  10 year-old boy identified as Joseph, by sending him to buy them a bottle of off drink Tuesday.
There were however different accounts as to how the Primary School pupil met his unprepared end. A version for the account alleged that immediately he took the bottle of soft drink to the Oladimejis, one of them smashed a hard object on his head, causing him to slump, before cutting off his head.
Another version alleged that he was strangled as he turned to leave, upon delivering the of drink.
Meanwhile, back at the boy's how, his apprehensive parents searched the neighbourhood for him to no avail.
Explaining how the suspects were arrested, spokesman for the Lagos State Police Command , Chile Oti, said: " On November 27,  2018, at about 8.30pm,  a team of Anti-kidnaping personnel of the Lagos State Police Command on routine patrol between Ajah/Epe expressway, apprehended two brothers :Ayodeji Obadimeji, and Saheed Obadimeji, aged 19 years  in possession of fresh human head.
The victim has been identified by his parents as Joseph Makinde,  a male, aged 10 years.
"The torso has been recovered from an uncompleted building located at Shapati and effort is being made to arrest the said Sodiq Abefe who allegedly contracted the duo to commit the heinous crime.
4 family members die, others hospitalised after eating `Amala'
" Meanwhile,  the Commissioner of Police has directed that the case be handed over to the Homicide section of the State Criminal Investigation and Intelligence Department (SCIID) Panti Yaba for further investigation.
The CP reiterated his earlier warnings to criminals to repent or relocate from the state  as they may regret the consequence of their action"