LAGOS—THE Atiku-Agbaje Media Engagement Network, AAMEN, has accused the All Progressives Congress, APC-led Federal Government of playing politics and insulting Nigerians by the ongoing disbursement of N10,000 TraderMoni loans to petty businesses.
Describing the gesture as tokenism from a government that has budgeted N86 million for the President's haircut and N3.5 million for feeding a VIP detainee, AAMEN challenged the government to tell the world what the traders could do with N10,000.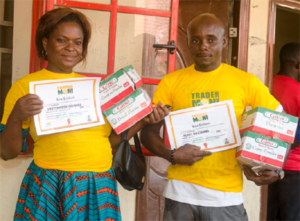 In a statement in Lagos, by AAMEN's Executive Secretary, Felix Oboagwina weekend, the group wondered why the money was being disbursed very close to the 2019 elections.
The statement reads: "TraderMoni is vote buying, pure and simple. It represents a grand fraud, a plot to pull the wool over the eyes of Nigerians. But it is dead on arrival. The fact that the money is coming a few months to an election shows clearly that the government is out to bribe the electorate to forgive its trespasses for past injustice."
https://www.vanguardngr.com/2018/11/nwaoboshi-i-wrote-efcc-from-document-placed-at-my-office-witnesss/
"A government that has increased the pump price of petrol from N85 to N145, and under which kerosene now sells for N245 up from the 2015 price of N50 is now doling out N10,000 that cannot fill one tank of petrol. What an insult."
Subscribe for latest Videos