•To unveil Camry performance spec
By Theodore Opara
TOYOTA Motor Corp. reported a 28 percent surge in its net profit in the last quarter, helped by growing sales in Europe, Asia and the Americas, and raised its earnings forecast for the full year.
The top Japanese automaker said Tuesday that its July-September profit totaled 585.1 billion yen ($5.2 billion), up from 458.3 billion yen the year before. Quarterly sales rose two percent to 7.31 trillion yen ($64.7 billion).
The manufacturer of the Camry sedan, Prius hybrid and Corolla subcompact forecast a 2.3 trillion yen ($20 billion) profit for the fiscal year through March. That exceeds its earlier forecast for 2.1 trillion yen ($19 billion), but is down nearly 8 percent from a nearly 2.5 trillion yen net profit in the previous fiscal year. Toyota sold 2.183 million vehicles in July-September, up from 2.175 million vehicles the same period a year earlier.
Vehicle sales slipped in the U.S. and Japan but improved in Europe, the rest of Asia and Central and South America. The company stuck to its full-year forecast for selling 8.9 million vehicles globally for the year through March 2019.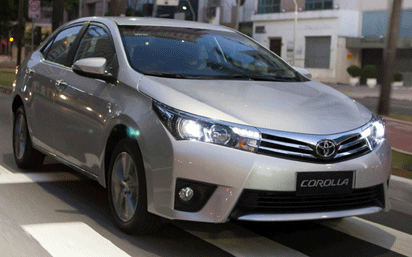 Cost reductions and marketing efforts helped the results for the latest quarter though an unfavorable exchange rate hurt, according to Toyota. "We are steadily making progress toward achieving our challenge-level target," Senior Managing Masayoshi Shirayanagi said in a statement of cost cutting efforts.
Toyota is often seen as an icon of Japanese-style manufacturing. It has been shifting its focus to leading technologies such as artificial intelligence, autonomous driving, car-sharing services and other new applications to keep up with changes in the industry.
Toyota President Akio Toyoda, a member of the company's founding family, has repeatedly said Toyota's business needs to change from merely making various vehicles to addressing all kinds of mobility needs. For the fiscal first half, Toyota's sales rose to a record 14.67 trillion yen ($130 billion), up three percent from the previous year.
Toyota's sales projection for the year through March at 29.5 trillion yen ($261 billion), if realized, will also mark a record for the company. Toyota's stock price jumped after the upbeat results were released, closed 2.1 percent higher.
Meanwhile Toyota will be showcasing two new performance-oriented TRD models at the upcoming Los Angeles Auto Show. Based on the teaser released by the company, the models will the new Toyota Camry TRD and the Avalon TRD. Both the models will be officially unveiled on November 29, the first day of the LA Auto Show, at Toyota's stall.
The new Camry TRD will come with a bunch of sporty cosmetic updates to match the performance boost the car is set to get, and the same goes for the Avalon TRD as well. While the engine details and other specifications are still unknown, it's believed that the TRD-spec  Toyota Camry  and Avalon will be powered by a 3.5-liter V6 engine that has been turned to offer a power boost from its current 300 bhp tune.
While the actual power figure is yet to be announced, rumour has it that the engine will churn out close to 400 bhp, and also come with all-wheel-drive (AWD). Other additional bits might possibly include TRD sport exhaust.
https://www.vanguardngr.com/2018/10/nse-market-capitalisation-extends-loss-by-n12bn/
Based on the teaser image, it's also clear that the upcoming Toyota Camry TRD is likely to come with upgraded exterior bits such as a body kit with a red stripe, and more aggressive tires and wheels. Similarly, the cabin is also likely to receive some considerable updates, possibly an all-black cabin, with sportier seats, new upholstery and maybe with one or two the TRD badging.