GENERAL Overseer of Bible Truth Christian Centre in Ikotun area of Lagos, Pastor John Okafor recently played host to close relations, friends and church members at a solemn gathering to mark his 70th birthday.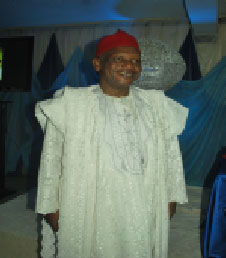 In this interview with SAM EYOBOKA, he share a joke of how Rwandans trooped to his hotel thinkg he was Mr. Ibu. "When I got to see my daughter-in-law in Nairobi, we passed through Kigali, the Rwandan capital. At my hotel there, they wanted the hotel authorities to allow them access to the popular Mr. Ibu who they claim they watch a lot in Rwanda.
'Over concentration on city centers deprive local dwellers of insurance benefits'
It was such a funny thing. One day I googled John Okafor, the name appeared and in bracket they now put Mr. Ibu. So that's why everywhere I go I say my name is John Ikemefuna Okafor." The Ogwashi Uku-born father of two boys and two girls, was born on October 16, 1948 who shares birthday with his first grandson, have spent most of his years in Lagos where he worked and trained himself at home.
He left the Federal Ministry of Finance and started work at the Nigeria Airports Authority from August 28, 1978 until he retired in August 2006 as a principal accountant.
Are you a self trained accountant?
It's a long story. It's just by miracle. In Ogwashi-Uku then, they call us Awolowo's children…those who couldn't have gone to school if not for Awolowo's introduction of free education in old Western Region.
What is your story of conversion?
God has been speaking to me to go into full pastoral work for about 11 years now. I was a member of the Anglican Communion where I was baptised at the age of about eight years. After con-firmation by Rev. S.I. Kaleh, the Anglican archbishop of Lagos Diocese at the foremost Cathedral Church, Marina, where Dr. Nnamdi Azikiwe used to attend then, I felt that was all, until one brother called me into his room on Sunday, December 24, 1972 and told me about Jesus dying and the need for me to accept Him as my personal Lord and saviour.
I repented of my sins and accepted Christ into my life, that was 46 years ago. I've been assisting the other pastors. I was actually called expressly around November 1989 to leave all and go into full time ministry but I refused then because my children were yet to enter into university and I didn't like the idea of pastors begging for money or depending on church members to train their children.
As I was retiring from service, God led me into some days of fasting and prayers and that was how I started on April 1, 2007. Three months later, my house mysteriously got burnt to ashes. I escaped by the whiskers. I came out with only pyjamas on my waist. I had to start buying blocks to rebuild a house that had been completed 17 years earlier. Some people said it's a trial and test of faith. God helped us and we rebuilt. So I've been in that ministry,  since 2007/2008. The vision is to extend the frontiers of God's kingdom with commission to build a church without borders and turning men into righteousness without which they cannot enter into the kingdom of God.
What is your story as narrated in that book?
Many are the afflictions of the right-eous but the Lord delivers him out of them all. Giving my life to Christ, friends made ridicule of me and then working in government service, I made up my mind that I will never ask for bribe even while working as an accountant. And God kept that testimony for me all the years I worked in the civil service.
It looked stupid, because when you see your colleagues buying properties in choice areas, making money, you will ask yourself if it's worth it. The life of a man does not consist in the abundance of things he possesses. I had to suffer certain deprivations. We have had accidents and God delivered us; God delivered us from fire outbreaks. Most of the attacks have been spiritual.
The grace to be righteous in service, especially in civil service has its own challenges, how do you relate with your people back home who expected much from you?
Some felt that I was pretending. I was heading accounts for Kano Airport for five years. I have headed so many departments in headquarters and they know where my colleagues are; so I leave them to God because they felt I was pretending. Even as I'm retired now, they won't allow me rest, they say my children have money. So you do your best and leave the rest for God to judge.
The Church in Nigeria is currently facing a lot of challenges making people to ask whether the old time Church is different from today's Church. Where did the Church go wrong, sir?
If you emphasise on righteousness you won't have a crowd in your church and that's one of the challenges I'm facing in the ministry now. The Bible given to us by God has not changed because God does not change. Men change because of gains. What shall it profit you if you now compromise the truth? Of course, you and your members will go to hell on account of very temporary things. Righteousness is for all.
It's boring when one is normal – Angela Okorie
At 70 sir, what challenges do you have in Christendom?
The challenges of people not wanting to listen to the truth because of gains. I went somewhere to minister near our house, the guy saw that I'm an old Christian and he's starting a new church, I finished preaching, gave an altar call and went to sit. The second minister that came up raised four offerings. I didn't raise any offering. Since then my friend never invited me again.
My church is not growing because I'm not ready to tell people lies or compromise the standards of the bible. We are not going by number. That's the challenge! People want people who can help them raise money. I'm not ready to do that. The devil has attacked me on my health in the last three years and four months, it's been from one to the other. But I trust that the grace of God will be upon my life to perfect everything that has do with my health.
You will still continue serving God no matter what?
There's no other life to live. Only what is fine for Christ will outlive this world. There's peace and contentment in serving the Lord. When I started going for ICAN lectures in the late 80s, when I see people from Price Waterhouse for the same lectures, I usually looked at them like spirits. I never imagined that one day my son will be a senior manager in Price Waterhouse. Despite my own personal challenges, God has blessed the children. The younger girl is a lawyer and a chartered accountant. She just finished her masters.
We are going to elections in another couple of weeks, what will be your advice for Nigerians?
The Church should stay away from politics and maintain the same stand that the Palace of Benin Kingdom has taken concerning politics over the years. The Benin Monarch has prayed the same prayer for every politician that comes to the palace for support. And the prayer is: "Lord give us somebody that will give us peace in Benin, prosperity and give jobs to our children."
Obaseki approves Isaac Ehiozuwa as new Head of Service
That should be the standard of the Church. Let God give us God-fearing people that will revamp the economy, give jobs to the youths. For violence, he that kills by the sword shall die by the sword. You cannot expect to be arming youths with guns and machetes in the name of political thugs to go and kill other people's children, wife or husband and expect to sit and relax and enjoy it. Whatever a man sows that will he also reap.
Subscribe for latest Videos