By Soni Daniel, Abuja
The Economic and Financial Crimes Commission has said that it has reasonable evidence to prosecute a suspect, Jyde Adelakun, who is the managing director of Torch of Fame Energy Company Limited over a $29 million fraud allegedly committed by him in Nigeria and the United States of America.
The EFCC issued the statement in response to an publicised statement by Adelakun that the commission manipulated court to obtain an order against him and his companies all in its desperate attempt to get at him.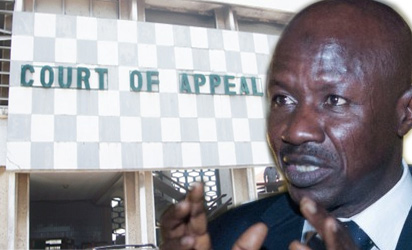 Adelakun had also claimed that unnamed EFCC operatives connived with some unnamed international fraudsters to collect the sum of $800 million from him.
However, the EFCC in a statement signed by its acting spokesman, Tony Orilade, dismissed all the claims made by Adelakun, describing them as tirades of a drowning man looking for ways and means to divert public attention from his heinous crimes.
The commission asked Adelakun and his cronies to go and prepare to defend themselves in court, as it has reasonable evidence against their fraudulent activities of fraudulent fund transfers spanning some countries including Nigeria.
The commission said: "Let it be placed on the record that the EFCC operatives carry out their operations to international best standards, and this has engendered immeasurable cooperation between the anti-graft agency and international law enforcement agencies, in combating corrupt practices both at local and international levels.
"Ordinarily, such unfounded claims deserve no response as they are obviously the tirades of a drowning man gnashing at straws to stay afloat. However, after considering the ridiculous claims in the advertorials, it has been deemed necessary to in the instance; shed some light on the allegation against Adelakun.
"The case against Jyde Adelakun is a case of fraudulent funds transfer and obtaining funds under false pretence, which will soon be prosecuted in Court.
"The fraud case involving him and some bank officials was reported to the Commission via a written petition from Templars Law Firm on behalf of Worldpay LLC based in the United States to the tune of $29 million.
"Investigations revealed mind-boggling fraud that cut across various countries including Nigeria. The facts unearthed in the course of investigation this fraud case will all soon be laid bare in the Court.
"The Commission, hereby, takes exception to the deliberate attempt by Adelakun and his cronies aimed at impugning the reputation of its teeming operatives toiling day and night to burnish the image of Nigeria, battered by the fraudulent activities of some," EFCC said.
https://www.vanguardngr.com/2018/11/n11bn-fraud-efcc-denies-intimidating-defendant-to-implicate-shema/