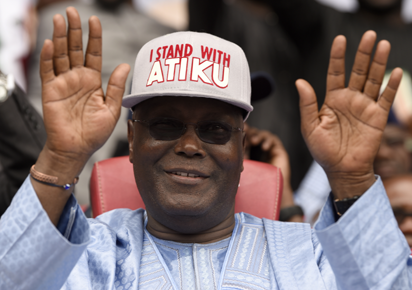 Atiku,
Birthday greetings. No one says it better than the young academy students. Nkem sent me their poem below. You are really inspiring hope. The best, Margee
Atiku/Obi group eulogise Waziri Adamawa at 72
ALHAJI ATIKU ABUBAKAR
Who is that giant tree I see
Providing shelter to the poor
And a windshield from the wind of shame to all?
Who is that gladiator
Advancing so courageously?
PDP challenges Buhari to a one-on-one debate wth Atiku
He has declared a fierce war against poverty
He is ready to defend the needy
And restore their lot
To the days of old
When their purses were strong
And the contents were sufficient to purchase the items of choice
Who is that hero I see
Who rises when other giants announce it's bedtime?
They retire and he remains to ensure
That his people have quality education
Ensuring too – a conducive atmosphere
Where even babies learn new words and numbers
And the older ones who aspire for Doctorate
Actualise their dreams without crossing seas and oceans
Who is that entrepreneur I see
Rising with courage written boldly in his eyes?
He strives only to make life easier
Engaging the hands of the youths in gainful labour
And taking off the burden of want and lack
From the back of the young and old
He replaces the yoke of sorrow with pride
And the gnaw of hunger
He replaces too with desired merriment, contentment and comfort
Who is that philanthropist I see
Feeding and educating the less-privileged
Providing them with renewed joy and vigour
To live, dream and actualise all aspirations?
We were standing on the pedestals of delusion
Our fortress was invaded by confusion
To our aid comes the messenger of great news
In his right hand he carries the golden bag of hope
In the other he carries the restoring balm of peace
He comes to secure and not to set to loss
He comes to unite and not to scatter
He comes to strengthen and not to weaken
He comes to enrich and not to impoverish
He is the one without a worthy competitor
To the young and needy
He is the caring adult who for them won't give up
He provides food and drinks
Shoes and tops
Books and pens
Education and subsequent employment
He is the Founder of institutions
From cradle to college
Babies crawl to A.U.N. Early Learning Centre
Where they're nursed and taught
They walk on to A.U.N. Elementary
Then some proceed to A.U.N. Charter School
And others to A.U.N. Academy:
A secondary school like no other
Where students are prepared for tertiary learning
The same is readily achieved
At the prestigious American University of Nigeria (A.U.N.)
He is a giver and not a taker
He is an entrepreneur, philanthropist and educator
He is the Waziri Adamawa
Alhaji Atiku Abubakar!
Margee Ensign, President of Dickson College, Pennsylvania.