AN indigene of a community (namewitheld) in Edo State, Mr Lucky Akhagbemeh has called on the Federal Government to redouble efforts towards enforcing the rights of Nigerians to worship whatever they chose to worship.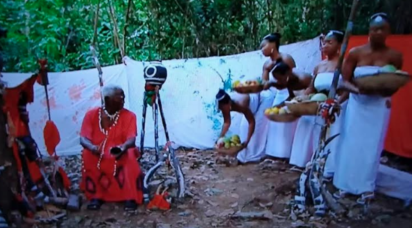 Akhagbemeh who made the call in Asaba while narrating how his family members and community tried to force one of his cousins, a Pastor, Bright Abehitale Ikpea was being forced to be the Chief Priest of their community 'juju', decried that the cousin, Bright Abehitale Ikpea fled to Libya when the pressure became too much leaving his wife and two daughters behind.
Saying the family members and the community wanted Bright Abehitale Ikpea to take over the shrine by worshipping the 'juju' since the father was old and could not carry on as the Chief Priest, he lamented that the people were trying to initiate him (Bright Abehitale Ikpea) even as a Pastor into the shrine.
According to him, "they said the consequence of his refusal was death so he decided to do it because of his parents but on getting there he was asked to perform some rituals involving human life, a female virgin, a little baby and circumcision of his two daughters.
"He was also asked to bring the circumcised part of the daughters to the shrine for dedication. My cousin since that time fled the country before he can take over the spiritual staff, which is the symbol of power of the gods because they threatened to take Bright Abehitale Ikpea life if he fails to take over the worship of the Juju."
Decrying that his cousin, Bright Abehitale Ikpea had been given initiation mark before he was told of the rituals involved, he lamented that they threaten to frustrate and kill him if he doesn't come back to serve the gods.
He said the police declared him (Bright Abehitale Ikpea) wanted after he was accused by the people of murder, adding that "he had to run away from the country leaving his two daughters, wife to Libya because nobody would believe his side of the story. Now we heard he is one of European countries".
https://www.vanguardngr.com/2018/10/japanese-princess-ayako-gives-up-royal-status-to-marry-commoner-2/