Zamfara Government has advised the Senator representing Zamfara Central, Sen. Kabiru Marafa, to stay away from efforts of state and federal governments in addressing security challenges in the state.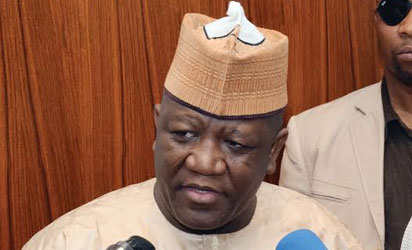 Buhari: I am on track to achieving my plans for Nigeria
The government gave the advice in a statement by the Special Adviser to the Governor on Media and Public Relations, Mr Ibrahim Dosara, in Gusau on Friday.
The development followed the senator's perceived negative comment on the recent decision of the state government to engage 8,500 youths as members of civilian Joint Task Force (JTF) on security in the state.
The lawmaker was quoted as saying that the recruitment was part of plan by the state government to use the youths against any opponent in the 2019 general elections in the state.
The government accused Marafa of "publicly denouncing'' its widely-accepted new strategy, being applied for the lasting solution for peace in the predominantly rural areas mostly hit by activities of bandits in the state.
"In the first instance, Sen. Marafa closed his eyes to all the efforts by Gov. Yari, President Muhammadu Buhari and all security agencies have been making to curb security challenges facing the state.
"The Senator was vocally out in any fora he was opportuned to speak, to condemn both Yari and Buhari in this regard," the statement added.
It maintained that "the decision to recruit the 8,500 civilian JTF was taken based on the advice of the Presidency and some governors who had similar bitter experience, but succeeded in similar strategy of employing the JTF''.
It disclosed that the state Council of Chiefs, Council of Ulamas and the State Security Council approved the recruitment.
"Therefore, the action is within the ambit of the law, and intended to bring to an end, the enormous security challenges in the state.
"Moreover, the civilian JTF are to work with the security agencies fighting the 10 years old menace, providing intelligence, assisting in locating the bandits' camps, etc.
"The senator is hereby enjoined to face his remaining political calculations in Nigerian politics and allow the government, traditional institutions, security agencies and the public to continue working hard for a peaceful Zamfara state," it said.
The state government had a fortnight ago resolved to engage 500 youths from each of the 17 emirate councils in the state, who would receive training on intelligence-gathering and dissemination.
They will also arrest suspected bandits, kidnappers, cattle rustlers and other criminals so as to rid the state of criminal activities.
Already, the recruitment exercise has commenced and the state government has promised to give the youths a monthly stipend of N15, 000 each. (NAN)