BY sAM eYOBOKA
PRESIDING Bishop of Rhema Christian Church & Towers Worldwide, Bishop Taiwo Akinola has advocated a drastic red-uction in the emolnum-ents of political office holders with a view to closing a yawning gap between the rich and the poor in the society.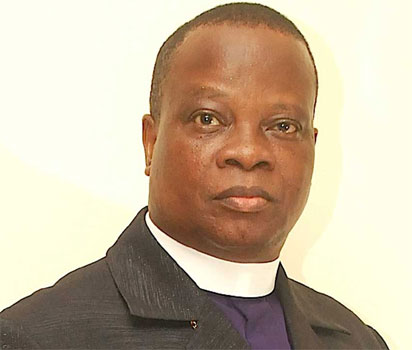 "In the spirit of fairness and equity, and in the interest of our national economy and peace, I believe that the bogus allowances that all the members of the ruling class and political office holders earn need to be urgently slashed.
"When these remunerat-ions for services render-ed by these group of citizens are slashed and made less attractive, then those politicians will reduce in number whose primary motivation are basically pecuniary in nat-ure. As far as I am con-cerned, this is a patriotic duty to do at this stage of our political engineer-ing," he emphasised.
Addressing newsmen in his church office ahead of this year's Rhema World Convention scheduled to begin today and runs till next Sunday with season-ed ministers of the gos-pel as well as notable gospel artistes, the bish-op maintained that as a church committed to the progress of Nigeria and its citizens, "we are con-cerned about the rising spate of unemployment in Nigeria.
Horror in Delta police station as activist slaps DPO, tears uniform, breaks DCO's head
"We observed that this critical situation has needlessly resulted in some youths taking to various social crimes," he noted.
He assured participants at the convention them-ed: "Walking in dominion", at the headquarters of the church in Sango Ota, Ogun State, to look for-ward to access the keys that will open them to the world of dominion and creative possibilities in Christ Jesus, and be pre-pared to sing a new song after the week long event.
"A very unique feature we have added to this year's convention is the assembly of star and anointed gospel artistes that would minister daily throughout the convent-ion. Gospel artistes lined up include, Mike Abdul, Sam Ebube, Ayan Jesu, Wunmi Sax, Bola Dada and others.
While Rev. Kunle Adesi-na, Bishop Bisi Bankole, Rev. Daniel Adeniyi, Bish-op Victor Akilla, Bishop Abiodun Akinteye, Bishop Israel Alaya will minister alongside the presiding bishop.
The bishop is of the view that the current development should not only be seen as a by-pro-duct of lack of fear of God, but also as a gross disparity inherent in the nation's planning and haphazard execution of projects aimed at gene-rating employment opp-ortunities that should ab-sorb the numerous you-ths and young graduates being turned out annually by our tertiary institu-tions. "We are, therefore, calling on the Federal and State Governments to, as a matter of deliberate po-licy, create jobs with a view to keeping our you-ths off the streets of crimes," he pleaded.
Taking a look at insecur-ity, Bishop Akinola opined that the modest victory over Boko Haram has, to a large extent, been rubb-ished by growing inciden-ces of killer Herdsmen menace, kidnapping, arm-ed robbery and even the resurgence of Boko Har-am activities in recent times.
"It is on this note that we hereby call on Pres-ident Muhammadu Buhari, to accentuate efforts aimed at ensuring the stoppage of this blood-lettings and carnage in the country," he added.
On the fight against corruption, he noted that any effort at subduing the scourge  in this nation is highly commendable.
He, however, urged government at all levels to carry out this laudable anti-corruption stance with very clean hands so that Nigerians should not find reason to suggest that the war is selective.