The Prince of Wales and heir apparent to the British throne, Prince Charles has commended the peace building efforts of communities in northeast Nigeria.
Prince Charles made this known when he received the Emir of Dutse in Jigawa, Alhaji Nuhu Sanusi, officials of the Kaduna State Peace Commission and some youth ambassadors for peace in Abuja on Thursday.
The prince held separate meetings with the groups and discussed the causes of conflicts and efforts that had been made to stem them.
Mr Adam Baba, one of the peace ambassadors from Jos, said that Prince Charles commended the steps taken by the peace network to encourage peaceful coexistence among victims of violent clashes.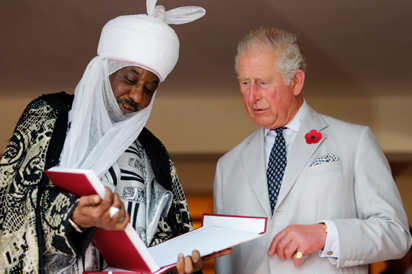 "What we are doing practically in our community, we explained to the prince and he was happy and encouraged us to sustain what we were doing and said that our activities will change the narrative."
Mrs Priscilla Ankut, Chief Executive Officer, Kaduna State Peace Commission, also said the prince expressed interest on the steps the commission was taking to address security in the state.
Ankut said: "He was particularly interested in the issues driving conflicts and particularly wanted to hear about the farmer-herder issue in northern Nigeria generally and was very interested in knowing what we were doing in addressing these conflicts.
"He brought in insights, some of his experiences where these types of issues are challenges in those areas and he offered some advice and suggestions on how best we could go about addressing some of the challenges."
https://www.vanguardngr.com/2018/10/killings-buhari-to-visit-kaduna-today/
She further said the prince suggested animal ranching to curb herder-farmer clashes and supported community initiatives aimed at mitigating conflicts.
Prof. Isawa Elaigwu, President, Institute for Governance and Social Research, urged Prince Charles to enhance efforts for peacebuilding in the country.
"Well, the British DFID has been active in peacebuilding and in a number of other activities and I believe the prince will use his good offices to encourage them to do more than they have done.
"I also think we need a lot of structures for mutual interaction and peaceful coexistence."
Mr Saleh Momale, Commissioner, Kaduna State Peace Commission, said the contribution of Prince Charles would contribute in shaping up policies that would influence peaceful coexistence in the country.
"It is pleasing that His Royal Highness has been able to come to Nigeria at this time and for his efforts and interest in trying to understand the dynamics.
"I do believe that his understanding of dynamics of conflicts and challenges of governance in Nigeria will help in shaping up some of the policies the British Government, the Commonwealth that will positively influence peacebuilding and harmonious coexistence in Nigeria."
The Emir of Dutse commended the support of the British Government to "work out solutions to youth unemployment, drug addiction, destruction of environment and all other issues that affect us".
https://www.vanguardngr.com/2018/11/prince-charles-to-address-herdsmen-attacks-during-nigeria-visit/
The prince and his wife, Princess Camilla, Duchess of Cornwall, visited Nigeria, which was the final leg of an eight-day tour to three West African countries, including The Gambia and Ghana.
The prince earlier attended a memorial event at Commonwealth War grave dedicated to the remembrance of those who lost their lives in WWI and WWII and also laid a wreath. (NAN)
Subscribe for latest Videos