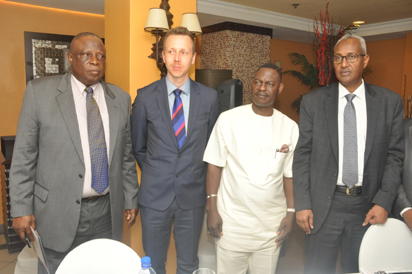 L-R: Dr. Oluropo Owolabi, Managing Director/CEO, Skyway Aviation Handling Limited (SAHCOL), Mr. Markus Brinkmann, Managing Director, Sifax Group, Dr. Taiwo Afolabi, Honorary Consul of Djibouti in Nigeria and Mr. Aboubaker Omar Hadi, Chairman, Djibouti Ports and Free Trade Zone Authority, during the Djibouti Business Forum organised by Sifax Group and Djibouti Consulate in Lagos.
By Peter Egwuatu
Skyway Aviation Handling Company, SAHCO Plc, has concluded arrangement to float an Initial Public Offering, IPO, of about N1.9 billion, the first in the capital market after four years of primary market lull. Parties to the issues, yesterday, signed the offering documents.
The company which was privatised in 2009 and acquired by Sifax Group would be raising the fund by way of offer for sale of 406,074,000 ordinary shares of 50 kobo each at N4.65 per share.
Investigative journalism key to tackling corruption — SERAP
The offering is being undertaken to enable the current shareholders divest part of their stakes in the company.
The Director General, Bureau of Public Enterprises, BPE, Mr. Alex Okoh, explained at the signing ceremony that during the privatisation of  SAHCO, the agreement was that 49 percent of the shares should be sold to the general public.
He said: "We are happy that the company is now offering these shares to the public so that many Nigerians will partake in the ownership of the company. It is better for many Nigerians to own the business. We are also happy that the current shareholders have been able to turnaround the entity. So we implore Nigerians to partake in this offer."
Speaking as well, the Chairman of the Company, Dr. Taiwo Afolabi said:  "Based on the terms of the executed Share Sale and Purchase Agreement (SSPA) in respect of the privatisation of the erstwhile Skypower, the shareholders of the Company are obligated to divest 49 percent  equity stake in SAHCO to the investing Nigerian public, with 10 percent  of the shares to be divested, sold to the staff of the company.
Just in: 5,000 supporters dump Kwankwaso
Further to this, the company sought and obtained the approval of the Bureau of Public Enterprises (BPE) for a phased divestment in view of current market conditions".