By Emman Ovuakporie
ABUJA—THE House of Representatives, yesterday faulted non-constitution of the board of National Pension Commission, PenCom, and resolved to set up an ad-hoc committee to investigate the activities of the commission from April 2017 to date.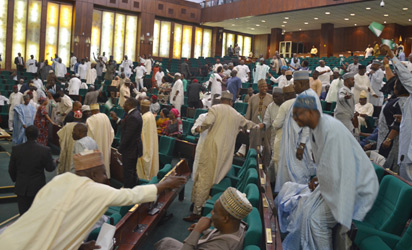 This came as the House urged the Federal Government to abide by the constitution of the Federal Republic of Nigeria and PenCom Act and send a constituted PenCom board to the Senate for confirmation within seven days.
The recommendations of the House followed the adoption of a motion by a member, Benjamin Wayo (APC Benue).
Wayo brought the motion entitled: "Motion to investigate the violation of PenCom Act, Illegal and Unlawful Appointments and Provisions and Use of Public Funds,"  to the floor of the House under matters of urgent national importance.
Wayo while moving the motion said: "In April 2017, the Federal Government of Nigeria announced the constitution or composition of the Board of the  National Pension Commission (PenCom), made up of Chairman,   Director General and four members as Executive Commissioners respectively. "
He said 19 months after the announcement of the composition of the Board , members were yet to assume office, saying "As a statutory Agency, the appointment or the Board members is made subject to the confirmation of the Senate,  upon the request of the President to that effect, but which request has up till now not been made to the Senate by the President.
He said the Net Assets Value (NAV) of the contributory Pension fund as at October 28, 2018 stood at N8.779 trillion with the number of contributors also grew to 8.90 million to date.
Wayo expressed concern that in absence of a proper structure put in place i.e the commission's Board, the  N8.779 trillion was left in the care of an Acting Director General.
"The Acting Director-General, Mrs. Dahir Umar has been acting unilaterally without any backing of the law increased her terminal benefits and that of other Senior Staff of the Commission by an outrageous 300 percent, and has also jerked up the number of PenCom General Managers from 10 to 17 clearly in breach of extant laws governing the institution of PenCom."
Wayo warned the House that: "it is dangerous and too risky to leave a treasury of N9 trillion without proper custodians and regulators."
But the leader of the House, Femi Gbajabiamiila countered Wayo on the non submission of the list of Board members to the Senate.
According to him, it was the Senate that had refused to confirm the list, claiming it was not the fault of the President.
However, when the Speaker, Yakubu Dogara, who presided, called for a voice vote, the resolutions were passed by majority of the lawmakers in the chamber.