Abuja – The Inspector-General of Police (I-G) will now get N3.3 million annually as rent subsidy in the new emolument approved for the Nigeria Police Force by President Muhammadu Buhari.
Deputy and Assistant Inspectors-General of Police will get N3.02 million and N2.7 million respectively as rent subsidy.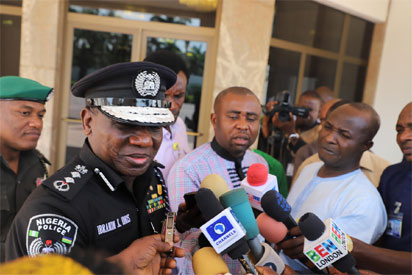 The News Agency of Nigeria (NAN) reports that a document attached to the approval letter showed details of the subsidy from a Constable to the I-G but silent on the salary.
The approval was conveyed to the I-G, through a letter dated Oct. 31 from the Office of the Executive Chairman, National Salaries, Incomes and Wages Commission, Mr Richard Egbule.
A Commissioner of Police under the new arrangement will get up to N1.5 million, while Deputy and Assistant Commissioners of Police get N531,000 and N483,000 respectively.
A Chief Superintendent of Police (CSP) gets N419, 000 while a Superintendent of Police (SP) gets N342, 000.
A Deputy Superintendent of Police (DSP) gets N321, 000 while an Assistant Superintendent of Police (ASP) I and II under the new arrangement will get N296, 000 and N271, 000 respectively.
Inspector of Police I and II get N254, 000 and N167, 000 while a Sergeant major, Sergeant and Corporal get N119,000, N96, 000 and N88, 000 respectively.
https://www.vanguardngr.com/2018/11/metele-attack-surviving-soldiers-send-sos-to-buhari/
A Police Constable I and II get N86, 000 and N84, 000 respectively
The new salary and rent structure approved took effect from Nov. 1 and would be funded from the treasury.
NAN recalls that in January 2008, late President Umaru Yar`Adua approved an increment in the minimum wage of policemen from N6, 000 to N26, 000 which was not implemented.(NAN)
https://www.vanguardngr.com/2018/11/2019-senate-leader-dismisses-pdps-chances/