By Chinedu Adonu
ENUGU—THE Police in Enugu yesterday, arraigned Chief Christian Akpata before a Federal High Court in Enugu on a four-count charge bordering on illegal possession of firearms and forgery.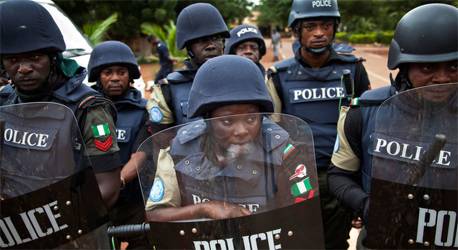 Akpata, a native of Akamaoye community in Ezeagu Local Government Area of the state was said to have been caught with illegal possession of a pump action gun with registration number P268884  and seven live cartridges of ammunition on January 17, 2018.
The offence is said to be punishable under Sect. 27 (1) (a) (i) of Firearms Act Cap F28 Laws of the Federation, 2004.
Absence of Kalu from court stalls hearing in alleged N7.65bn fraud
Akpata was also alleged to have forged a fake signature of the traditional ruler of the community, Igwe Kieran Ugwuozor on an irrevocable power of attorney dated Nov. 2004 and purported same to be genuine.
The alleged offence is punishable under Sect. 467 of the Criminal Code Act Cap C38 Laws of the Federation, 2004.
The last count charge read: "That you on or about Jan. 17, 2018 unlawfully represented as genuine, a fake firearms license knowingly and thereby committed an offence punishable under Sect. 467 of the Criminal Code Act Cap C38 Laws of the Federation, 2004."
When the charges were read, the accused pleaded not guilty.
The defence counsel, Mr Alex Alujiogu told the court that he could not file any bail application for his client as the prosecution served the processes on him in court.
Alujiogu said that his client was arrested 7pm Sunday night, adding that the hasty arraignment was meant to disgrace the accused by putting him in detention.
However, the prosecution counsel, Mr Stanley Nwodo said that he served them in court due to the antics of the accused in the matter over time.
Nwodo alleged that Akpata had no defined counsel, adding that several attempts to arraign him had proved abortive.
He told the court to discountenance the sentiments shared by the defence counsel, saying "sentiments and law  cannot come in conflict."
Nwodo said that he was ready to argue any bail application put forward by the defence.
In a ruling, Justice Rosemary Dugbo-Oghoghorie said that it would be unprofessional to expect the defence to immediately file a bail application when they were served in court.
Dugbo-Oghoghorie  therefore released the accused to the defence counsel and adjourned the matter to November 13, 2018 for argument on bail and commencement of trial.
Subscribe for latest Videos