Mrs Winifred Oyo-Ita, Head of Civil Service of the Federation has pledged to revive the civil service destroyed by the Boko Haram insurgency in the North-East.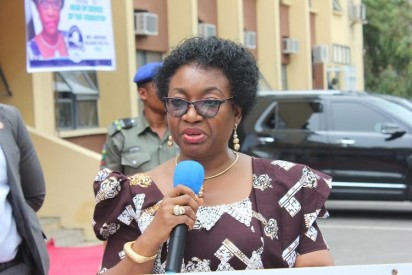 Oyo-Ita made the pledge during a courtesy visit to Amb. Adamu Onoze, the Nigerian High Commissioner to Rwanda on Monday in Kigali.
She said that the purpose of her visit to Rwanda was to learn how the Rwandans survived and excelled in their civil service after the 1994 genocide.
She said the visit was part of the implementation process of the 2017-2020 Federal Civil Service Strategy and Implementation Plan.
"We are here to learn how the Rwandans came out of the genocide they faced and came up with a very efficient civil service seen as one of the best in Africa.
NLC strike: No need for panic buying of PMS – NNPC
"We are here to interrogate and interact with the Rwanda public service in area of capacity building, budgeting and ease of doing business.
"Also to learn how there are many women in Rwandan government and to replicate the lessons in Nigeria, particularly the North-East,'' she said.
Newsmen report that Oyo-Ita had led a delegation on a five-day learning visit to Rwanda, titled: "Readiness for Change".
In his response, Onoze commended the visiting team on the initiative to learn about the reform in Rwanda.
He said Rwanda had abolished any form of ethnicity which was the major cause of the genocide.
He said the crisis was between the Tutsis and the Hutus who were the major ethnic groups in the country.
Civil war echoes: Development of Nigeria'll be difficult unless… – Gov Ikpeazu
He said Rwanda was the cleanest country in Africa due to the political will of the government and monthly sanitation that was put in place.
According to him, the Rwandan government attracts many foreign investors as well as boosts their economy through their visa on arrival policy.
He called on the government of Nigeria and other African countries to adopt the visa on arrival policy for improved economy.
He said Nigeria and Rwanda had an exchange programme policy where Nigerian professors come to teach in Rwandan universities for two years and another batch comes to take over.
Newsmen gathered that Rwanda has a population of 11.5 million people with women making up over 60 per cent of the parliament. (NAN)
It is also a country where nylon bags are prohibited to maintain its neatness; and nobody talks aggressively to the citizens because of their genocide experience, to keep them emotionally balanced.
NAN
Subscribe for latest Videos