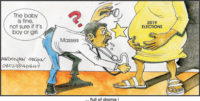 Election
By Alemma-Ozioruva Aliu
AHEAD of the official commencement of campaigns for the 2019 Presidential and National Assembly elections, the candidate of the Action Democratic Party (ADP) for Edo South Senatorial District, Dr Ese Owie, has unveiled his Campaign Structure christened "Team Impact '19″.

Speaking to Newsmen in Benin City yesterday, the ADP State Publicity Secretary, Hon Christopher Ojeikere, named veteran political strategist and educationist, Hon. Izedonmwen Oshodin as Team Lead of the campaign. He said Oshodin would be supported by five Deputy Team Leads that shall superintend over other sub-teams.
Ojeikere reiterated that Owie, in constituting the campaign team, kept to his promise of representing the collective interests and aspirations of ethnic nationalities in Edo South. He stated that the diverse membership of the team is also reflective of the cosmopolitan nature of the Senatorial District as the nerve centre of the Old Mid-Western Region.
https://newlive.vanguardngr.com/2018/11/plane-search-buhari-atiku-at-each-others-throats/