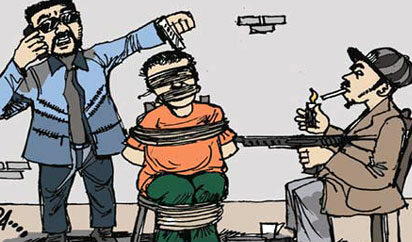 Kidnap
*Uduaghan, PDP, Omare, Ogedegbe, others voice out
*Police arrest about four suspects, hunt for fleeing members
By Emma Amaize
ASABA- RESIDENTS of Delta State are enraged at the activities of  suspected ritualists and "Yahoo Yahoo boys," who  abduct and kill citizens, especially the female folk, make away with their vital organs and panties for moneymaking rituals.
There have been alarming attacks and disappearances of unsuspecting  victims  at Jesse, Oghara Sapele, Abraka, Oghara, Ughelli and Warri in recent weeks.
Besides the latest kidnap, killing and stealing of breasts and tongue  of a first- class undergraduate of Delta State University, DELSU, Abraka, Elozino Ogege , which sparked the latest anger,  suspected ritualists beheaded  a widow at Oghara, the country home of former governor of the state, Chief James Ibori, in a similar manner, recently.
Elozino's killing was very pathetic for they abducted and whisked her to a hideout where they dismembered her despite her fervent cry for mercy.
However, Commissioner of Police, Mr. Muhammad Mustafa, followed up on his promise, last Monday, to track down the killers of Elozino with reports that at least four suspects, including two Yahoo boys, a native doctor and security guard have been arrested.
Operatives of the Special Armed Robbery Squad, SARS stormed Effurun, last Monday, and apprehended a native doctor allegedly working with the criminals,  while detectives were combing for the fleeing suspects.
Former governor of the state and All Progressives Congress, APC, senatorial candidate in Delta South senatorial district, Dr. Emmanuel Uduaghan, took to his Face Book page, weekend,  to bemoan the dastard killing of Elozino, calling on the security agencies to be more alive to enforce the law to stop the menace of Yahoo Yahoo boys, ritualists and cultists.
He said in all the commentaries on the dastardly act, "There seems to be a consensus that what happened to Elozino in the hands of ritualists is a collective failure of government, parents, uncles, aunties, the church, schools."
Eid-el-Maulud: Ugwuanyi, Obi felicitate with Muslims; call for prayers, peace, unity
The Peoples Democratic Party, PDP, in the state, on Sunday, also called on the police and other relevant security agencies to unravel the perpetrators of this terrible act bring them to book.
Publicity secretary, Dr. Ifeanyi Osuoza, in a statement, urged the police to "ensure that adequate security measures are put in place henceforth to rid the entire Delta state of the evil menace of ritual killers and other disciples of the darks arts operating anywhere in the state."
"The brazen way and manner surrounding the abduction and subsequent murder of Miss Ogege and the subsequent discovery of her mutilated and decomposing remains, suggests that a throbbing yet frightening cartel of ritual killers and diabolic groups of cultist, is possibly thriving and operating unhindered and with conniving complicity of the town folks of the communities," the party said.
A lawyer and activist, Frank Oseya, said, "Majority opinion is of the view that it was the handiwork of money ritualists masquerading as yahoo boys. Minority is of the view that it this could be politicians at work since we are in election season and the fetish ones are on the prowl to renew their 'black power'."
"Ritual killings have become very rampant in recent times, coinciding with a worrisome upsurge in the number of very small boys riding in very expensive cars, building mansions and flaunting unexplainable wealth," he said.
Onuesoke hails Okowa for releasing funds for major road contracts in Delta
Oseya blamed parents who flaunt their yahoo children's illicit wealth without questioning, government that provided no job for the teeming unemployed for the madness.
Human rights activist and lawyer, Maxwell Ogedegbe, who rejected a brief from some accomplices in Elozino murder after he found out that they were yahoo boys, said they almost misled him by accusing SARS of operatives of unprofessional conduct.
Ogedegbe said it was when he called Commissioner Mustafa, who requested him to get in touch with the Officer in charge, SARS, that he got the true picture of things.