By Nwafor Sunday
As the 2019 presidential election draws near, political parties have started building a strong image of their respective candidates in order to win the heart of the electorates.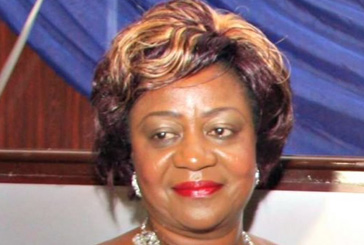 President Muhammadu Buhari and his vice are not left out, as Lauretta Onochie, the special adviser to Mr President on Social media, took to her tweeter handle on Tuesday to lambast the vice presidential candidate of the opposition party, Mr Peter Obi and extol vice president Yemi Osinbajo on his unflinching contributions towards the success of trader moni approved in view by the federal government to assist petty traders in the country.
Lauretta Onochie seeks enforcement of law to curb abuse of social media
According to her, the opposition party "wants to return to take food out of the mouth of these lovely Nigerians. For the first time, ordinary Nigerians have a share in our national wealth. There will be no Peter Obi-tuary for this scheme. Thanks @Prof. Yemi Osinbajo. You're the best.
Read her tweets below:
When they say,
"#LetsGetNigeriaWorkingAgain",
they mean, vote them in to open the treasury and let them and a few select political, military, religious and traditional elite, loot to their unsatisfaction. #NigeriaWontLetThemLootAgain. pic.twitter.com/O4HDGUC8c6

— Lauretta Onochie (@Laurestar) November 11, 2018
If as a leader in Anambra State, he divided predominantly Christian Anambra State along Christian Denomination Lines, he has no business in Abuja!
When he says, #LetsGetNigeriaWorkingAgain, he means, let's divide Nigeria along class, ethnic and religious lines. #NoToBigotry pic.twitter.com/QqZ1UgBYfZ

— Lauretta Onochie (@Laurestar) November 11, 2018
100,000 workers indeed! Clearly, he is the largest private sector employer of Ghost Workers seeing he claims workers he does not have. https://t.co/eiInbFCRnG

— Lauretta Onochie (@Laurestar) November 11, 2018
What the heck is this noise from masters of impunity, @OfficialPDPNig?
I have been searched at Airports too
So has Transport Minister Hon Amaechi & other dignitaries

Nigerians love a Nigeria where none is above the law. Thats where we are heading
Dont set us back to lawlessness pic.twitter.com/xIMm2GrhU2

— Lauretta Onochie (@Laurestar) November 12, 2018
This is what they are coming to stop
They want to return to take food out of the mouth of these lovely Nigerians.
For the first time, ordinary Nigerians have a share in our national wealth.
There will be no Peter Obi-tuary for this scheme.
Thanks @ProfOsinbajo. Your the best. https://t.co/nh0TMwQW7c

— Lauretta Onochie (@Laurestar) November 13, 2018
I concur. Totally. pic.twitter.com/UrBEbMVQDM

— Lauretta Onochie (@Laurestar) November 13, 2018
Tell the haters, dear brother.

We are here to showcase our Candidate.
🍎His integrity
🍎His achievements
🍎His honesty

Haters have NOTHING to showcase so they abuse, curse and insult all day long.

We dont care. Why?
We stand on a good moral ground.
We have God on our side.💅 pic.twitter.com/UUVe0q1DF0

— Lauretta Onochie (@Laurestar) November 13, 2018
"Atiku lacked experience (Inexperience), he was not willing to learn (Unteachable) and complained that he was given too much work (Lazy).
– Pres. Obasanjo

Me:
1. Inexperienced
2. Unteachable
3. Lazy
Attributes we cannot afford to have in our Leader pic.twitter.com/EByOmwpKww

— Lauretta Onochie (@Laurestar) November 9, 2018