Following the reported adoption of the Presidential Candidate of the People's Democratic Party, PDP, Alhaji Atiku Abubakar by Igbo leaders led by Prof. Ben Nwabueze, Governor Rochas Okorocha has advised the leaders and other relevant groups in Igbo land to toe the path of wisdom and avoid the indiscriminate adoption of candidates, adding that President Muhammadu Buhari will emerge victorious in the 2019 general election.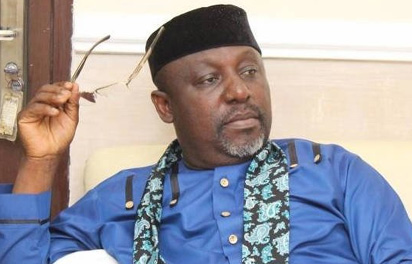 The governor in a statement his Chief Press Secretary, Sam Onwuemeod on Thursday also said that as a firm believer in APC and founder of the Party, he will work hard with other committed party members to ensure his own Victory and the Victory of other Candidates of the party they believe can win the 2019 election, Stating that he remains in APC and the Candidate of the Party for Orlu Zone Senatorial election.
Governor Okorocha also asked INEC to verify the Court Order brought by Chief Hope Uzodinma for which he was listed as the governorship Candidate of APC for Imo State to find out the authenticity or otherwise of the Court Order, contending that the Court Order in question might have been forged.
His words "On the adoption of a presidential candidate by Igbo leaders and their playing partisan politics, my advise is that Igbo leaders should toe the path of wisdom and should not come again adopting a candidate. Mine is an advise that the Igbos should be careful not to play the same type of very bad politics we played in the past which most of the times, kept us in political wilderness. As a people, we must be wise now and never foreclose the possibility of any presidential Candidate becoming the president tomorrow".
He said "For that reason, I will advise that Igbos should be wise and most organizations in Igbo land should play wise politics rather than playing politics of sentiments which hunts us in the past. You may recall that I stood out when nobody believed that Buhari was going to be president and made my point clear that Buhari would be President of this Country and the prophesy came to be".
He continued "If I had not emerged as the Governor from the South-East, probably today, Igbos would have been looked at as people who are not in national politics and
APC would have been branded a sectional party or religious party, but my presence helped to build the bridge. I want Igbos to build this bridge proper and make it stronger rather than weakening the bridge".
The governor further Stated "I am here also to inform the whole world that I am still in APC and the candidate of APC for Orlu Zone Senatorial election. Nothing has changed towards that. This is to correct some misinformation and rumours that might be going on from time to time in some quarters. I believe in this APC and I founded APC and will remain in APC to ensure Victory for the Party in the forthcoming elections. I support President Buhari's presidential ambition one hundred percent and I am convinced that he will emerge victorious in the 2019 general election".
https://www.vanguardngr.com/2018/11/just-in-hope-party-drags-inec-apc-to-court-over-tradermoni-scheme/
On the recent publication of the names of Candidates by INEC, Governor Okorocha stated "Information reaching me shows that actually a fake Court Order was used in removing the name of the Candidate of APC in Imo State which is Uche Nwosu. That report seems to be very authentic and that is what INEC may have relied on to do what they did, because that day the name of Uche Nwosu was still there with INEC in line with the two Court Orders supporting his Candidature and restraining INEC and APC from removing his name, but his name was changed with the name of the other Candidate".
He added "When we inquired to know what happened, we were told that there was a Court Order and digging deep, we found out that the Court Order might not exist anywhere in any Court of Competent jurisdiction. This is a test of integrity on INEC to really tell the world the reasons behind disregarding the Court Orders by publishing the name of a Candidate who did not win the Primary. As it is now, we demand to know what INEC really relied on to publish a name against the Order of the Court".
https://www.vanguardngr.com/2018/11/what-is-atikus-crime-peter-obi-fumes/