…appeal for upgrade to polytechnic
Still basking in the euphoria of having a multi-skills acquisition centre in their community, youth leaders in Okogbo and other communities in Ukpato Ward, in Orhionmwon Local Government Area of the state have lauded what they described as the people-centred policies of the Godwin Obaseki-led administration in the state.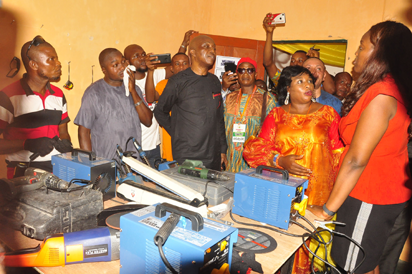 Osaretin Edughaen, Chairman of Okogbo Youth league, said: We are proud that we have been factored into the developmental programmes of our 'Wake and See' Governor. When we heard of plans to set up the centre in Okogbo, we were excited but we did not know that the governor would match action with words to deliver the project at the pace he did.
Edughaen added, "We are very happy and all Orhionmwon people are grateful to the governor and our political leaders in the local government area. Ukpato multi-skills acquisition centre is for everybody in the local government area.
"The facility will empower our youths to participate in the economic development of the state and nation. It is our wish that after some months, this facility will be upgraded to a monotechnic or a polytechnic for higher technical and vocational education so that Orhionmwon local government area will have an institution of higher learning for our youths."
https://www.vanguardngr.com/2018/11/edo-hosts-buhari-as-president-commissions-edo-azura-plant-attends-coas-conference/
He maintained that a polytechnic in Ukpato will reduce the incidence of human trafficking and illegal migration in the area and reset and equip our people for in-demand industry skills.
Barrister Omogiate Aigbovo who also hails from Okogbo, described the multi-skills centre as a source of light to the communities in Ukpato Ward and the entire Orhionmwon local government area and urged youths in the area to take advantage of the trainings that will be offered at the centre to upgrade their lives.
"Our people are very industrious and I know that this facility given to us by our dear governor will change the narrative in the area. It will raise the scale of economic and social activities and in no distant time, Ukpato Ward will become an innovation hub that will be producing experts for various industries," Aigbovo said.
Other people from Iguere and neighbouring villages in the local government area, said it is the first time that the ward has received developmental projects ranging from roads, a skills centre and primary health care centres billed to be cited in the area in the coming months.
https://www.vanguardngr.com/2018/11/boko-haram-kills-nigerian-army-commander-dozens-of-soldiers/
Promoter of Okogbo people in the diaspora group, Osagie Aimurie, saluted governor Obaseki's governance model that places emphasis on youth empowerment and infrastructural development.