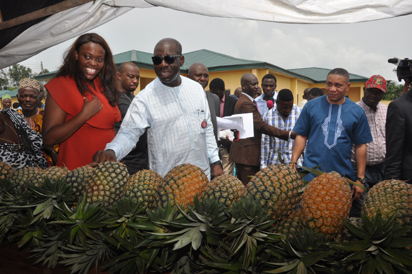 Edo State Governor, Mr. Godwin Obaseki (2nd left); Special Adviser to the Governor on Political Matters and Community Affairs, Chief Osaro Idah (left), Enogie of Ehor, His Royal Highness, Dr. David Igiehon (2nd right); and Chief Alohan Nogheghase (right), at the inauguration of the Edo Food and Agriculture Cluster (EDO-FAC) and skills centre, in Ehor, Uhunmwode Local Government Area, Edo State, on Monday, November 19, 2018.
.as centre employs 25 indigenes
The Edo State Governor, Mr Godwin Obaseki, has inaugurated the Edo Food and Agriculture Cluster (EDO-FAC) and skills centre in Ehor, Uhunmwode Local Government Area, pledging to address development challenges in the LGA.
The cluster is expected to serve as aggregation ground for farmers to interface with buyers of their produce.
Obaseki while inaugurating the cluster, decried the level of poverty in Uhunmwode Local Government Area and promised to change the development narrative to discourage youth in the area from falling prey to the scheming of human traffickers.
He said his administration believes in the youth and pledged that more will be done to improve the economy of the council, adding that the initiative will encourage youths to stay back and contribute their quota to the development of the area.
The governor said, "As farmers, you make money from your various farms. We will assist you embrace modern way of farming, so you can make more money using technology. We will assist you by creating good roads to transport your produce to this center where buyers will come to buy your farm produce."
"We will enumerate you to know your present locations and what you are producing. This will enable us help you to expand your farm while using the latest technology to improve your yield and connect you with labourers that will work on your farms," he added.
The centre, according to him, apart from being a place for agricultural produce, will train youths in wielding, use of computer, shoe making, adding, "We will teach people how to process food and set up a cold room to preserve food."
https://newlive.vanguardngr.com/2018/11/obaseki-flays-theft-of-airport-facilities-orders-investigation/
Obaseki said the center is one amongst the various centers his administration will set up across the state and will have 24-hour electricity supply.
"We want to take development to our people wherever they are. Next year, we will put more money in our budget to enable us build houses in Ehor to encourage people to live here."
The Chairman of Uhunmwode Local Government Area, Hon. Agbama Napoleon, commended the governor for keeping to his promise to inaugurate the cluster and skills centre.
He added, "Our people are all coming to register here to be part of the development. We assure you as a local government council, we will continue to support you."
The Enogie of Ehor, His Royal Highness, David Igiehon, expressed appreciation to governor Obaseki for all he is doing for the people of Ehor. He called attention to the lack of potable water, good roads and electricity, which he said, if addressed, will deepen development in area.
The Senior Special Assistant to the Governor on Skills Development and Job Creation, Mrs. Ukinebo Dare, said the state government has engaged 70 youths in the area, with 25 indigenes engaged as staff for the center and will also act as enumerators for the project.