By Omeiza Ajayi
ABUJA: Son of former President Olusegun Obasanjo and the National President of Buhari Youth Organization BYO Olujonwo Obasanjo, has said it would be unfair for Nigerians to compare the administration of his father to the current President, Muhammadu Buhari.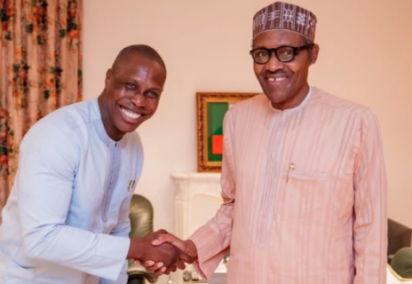 This was as he said there was no bad blood between him and his father in spite of their current political leanings.
He said while he cannot speak for his father's-led administration, he (Olujonwo Obasanjo) believe in the current administration as a young man and he is supporting the administration.
Speaking at an interactive session with journalists in Abuja, Olujuwon said his current political views might be different from those of his father but do not imply disrespect.
The former had withdrawn support for the Buhari administration and instead expressed a preference for Atiku Abubakar, his former deputy, now the presidential candidate of the opposition Peoples Democratic Party PDP.
Asked why he took another path different from his father's, Olujonwo said; "Everybody's parent wanted them to be one thing or the other, probably different from what they are today. But at certain stages in our lives, we choose our path. That does not amount to disrespecting your parents.
"I am an adult and as an individual, I am here as someone who believes in this government. This government is diversifying the economy from an oil based economy and has made agriculture fashionable. Today, people talk about farming and no longer look at it in a degrading manner. People now look at the value chain when you talk about farming.
"For me, it is all about the impact that this government has made. As a nation, we must look beyond oil and think outside the box by looking at other areas which is what this government has come to do. Nigeria is a nation blessed in several ways and not just oil and this government is promoting youth involvement in all sectors. As a young man, I am looking at the future and I believe in this government and I am supporting Mr. President. So, I cannot speak for my father".
When asked to compare his father's administration with Buhari's, he said; "I think that will be unfair because what each leader met on ground…..and came in under different circumstances. It will be an unfair comparison.
"When we get to certain point in our life, you are responsible for the decisions you take. With all due respect, my father is my father and will remain my father despite our political differences. At the end of the day, this election will end. Does that stop him from being my father? Are you saying we cannot sit down and have dinner together and discuss issues?
"As a nation, we need to progress mentally and quit looking at politics as a do or die or as something that separates us. Politics is meant to unite us. We can disagree to agree; we can have genuine argument. You see things from my point of view, I see things from your point of view and we see how we can work together. That is the type of politics we are trying to promote and the message we are trying to send across. We are looking to promote certain values in politics. That is why we are in politics. It is very important that we rise above religion, ethnicity and primordial sentiments for the interest of this nation as a whole.
"Politics is not a battle, it is not war. We should stop looking at it from the stand point of who is superior. I have an ideology and an opinion, my father has his and we are not in conflict, we are still a family, a loving family with my dad."
Olujonwo also said his group, the BYO believes that by promoting the ideology of President Buhari, "we are also promoting his achievements. We will be putting the facts forward and allow the electorate decide what is best for them. A lot has been going on in the social media. But at the end of the day, it is the grassroot that matters.
"One of the things the President faced when he came into office was the security challenges in this country. Several local governments were under Boko Haram. We will always have security challenges, but it is important that we have a leader who is sincere, trustworthy and make sure that our resources are applied towards fighting for this nation. You can see that from the successes we have recorded, Mr. President has done a tremendous job within a short time."