Brig. – Gen. Suleiman Kazaure, the Director-General, National Youth Service Corps (NYSC), has warned corps members against unauthorised trips during their national assignments.
Kazaure gave the warning on Monday during an inspection visit to the NYSC Permanent orientation camp at Kusalla in Karaye Local Government Area of Kano State.
Mr Leke Abiodun, the Director Audit and Coordinating Director Ventures Management Department of the NYSC Headquarters, represented the NYSC's director-general at the occasion.
He cautioned that any corps member who flouted the directive would be punished according to the laws of the scheme.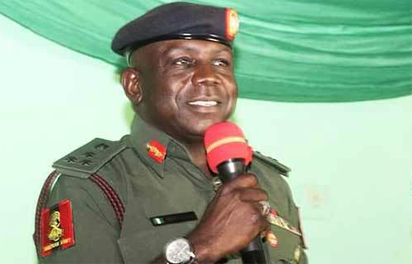 "We are giving this warning because some corps members are of the habit of traveling without seeking or informing those responsible for that.
''They should kindly avoid such for their own good.
''We are now their parents because they are under our supervision now, after leaving their relatives, and if anything happen to them, we are to be asked," he said.
Kazaure also urged corps members to strive to understand the religion, culture and traditions of their host communities in order to have a united nation, saying this was one of the objectives of the scheme.
He called on corps members to maintain their integrity anywhere they are posted for their primary assignments.
Earlier, the NYSC Coordinator in Kano State, Alhaji Ladan Baba, said out of the 2,285 corps members posted to the state, 29 graduated with distinctions while 41 got first class degrees.
According to him, the corps members came from over 300 different institutions of higher learning within and outside the country, with 53 trained abroad, stressing that they  were in very active in the camp.
"There is at least a corps member virtually in 384 different fields in our database with highest in Social and Management Sciences, such as Business Administration, Computer Science, Accounting and Economics.
"The NYSC and collaborating agencies have so far proven themselves as hard working, loyal officers and dedicated team players " he said.
https://www.vanguardngr.com/2018/10/host-community-moves-to-end-herdsmen-grazing-in-plateau-varsity/
"I must commend the state government for all the support given to the scheme in Kano, especially the general renovation of the camp even though on hold at the moment. But we saw the completion of one senior staff quarters.
"A new set of some accommodation with the additional seven new toilets and bedrooms. We now have 113 toilets and 85 bathrooms.
"We have of recent acquired five lawn mowers, 50 baskets and 10 waste drums in order to make the camp one of the cleanest, " he said.
Subscribe for latest Videos