…wins Multiple Global Awards in 2018
The Nigerian Prisons Service (NPS) has enrolled 465 inmates for academic programmes just as it won multiple international awards for promoting education and campaigns on prison decongestion this year.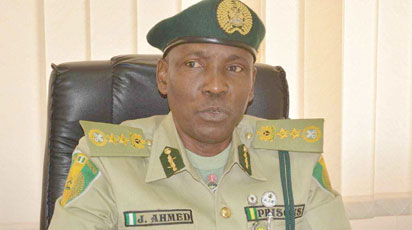 The Comptroller General of Prison, Jaafaru Ahmed who made the disclosure while handing over the awards to the Minister of Interior, General Abdulrahman Dambazau at a brief ceremony in Abuja noted that the service currently has no fewer than 465 inmates studying undergraduate courses at the National Open University of Nigeria NOUN while many others have begun their post-graduate programmes.
Jaafaru Ahmed said: "As we speak today, we have over 465 inmates in various disciplines, 23 are doing their post graduate degrees. We also have an active collaboration with the College of Education, Yelwa where we have also graduated scores of inmates. We blend formal education with skills acquisition and we hope that this will be a model for this country so that the country's university graduates can be self-employed upon graduation. We have aftercare services where we equip all the inmates that have been discharged and I am happy that they doing well and have left the lives of crime", he said.
He listed several international awards that the service had won this year saying; "With the cooperation of the National Open University of Nigeria (NOUN), the Prisons Service has won the 2018 UNESCO/Confucius Prize for Literacy, beating 70 other entries from across the world to clinch the coveted prize at a ceremony in Paris, France and awarded a $20, 000 cash prize, medals and a diploma as well as accorded an opportunity to visit China, the birthplace of the Chinese Educationist and Philosopher, Confucius.
"The service also won two SABRE Awards of Africa Public Relations Association (APRA) for Public Education and Public Sector in Gaborone, Botswana as well as Golden World Awards of International Public Relations Association on Crisis Management for campaigns on Prison Decongestion by tackling the plight of awaiting trial inmates (ATI).
"The NPS' PR campaigns which were executed by Image Merchants Promotion Limited, publishers of PRNigeria, created massive public awareness for mass-mobilization and positive response from the concerned stakeholders who deployed legal and constitutional procedures to address the challenges of the alarming statistics of ATI.
"These prizes are made possible by the Prisons Service in terms of providing educational and humanitarian services and effective collaborations with our major stakeholders including the media especially in the improvement of the welfare of staff and inmates.
Dambazau on his part commended the management of the Nigerian prison service for its accomplishments in prison reforms. He also urged stakeholders to scale up their assistance to prison inmates to cover their resettlement and reintegration into the society upon their release.
Dambazau said: "I must commend the Comptroler General of Prison Service, Jaafaru Ahmed for his forward looking and creative initiatives and administrative ingenuity in addressing the plights of inmates and accomplishing various managerial tasks with minimal supervisions. I urge other agencies to emulate his giant strides.
"Education is a right to all Nigerians including prison inmates and this is one of the things we are pursuing. It is also one of the quickest ways to rehabilitate inmates. Just like we cannot ask inmates to pay for their feeding, we will not also ask them to pay for education. We must collaborate on how to sustain the educational advancements of ex-inmates. In other words, it has to be total resettlement and integration programme. We must assist them in job placements too. Even marriage, we should find wives for them, we should find husbands for them. This is not a laughing matter because people discriminate against them more than any other group of persons".
NOUN Vice Chancellor, Prof. Abdalla Uba Adamu on his part called for more support in order for the university to continue to sustain the tuition-free educational programmes being enjoyed by inmates, adding that the university has structured its assistance to the inmates in a way that they can now pursue their educational dreams up to postdoctoral level and at no cost.
https://www.vanguardngr.com/2018/10/ipra-2018-russia-japan-turkey-win-multiple-pr-awards-in-barcelona/
Subscribe for latest Videos