Former Super Eagles' chief coach Christian Chukwu on Tuesday said midfielder Mikel Obi's absence from the upcoming Nigeria/South Africa clash would not affect the team negatively.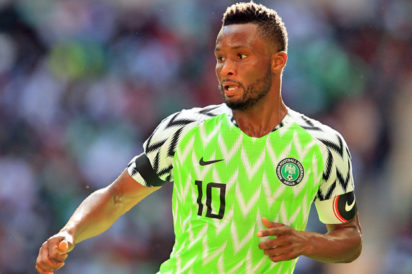 Chukwu told the News Agency of Nigeria (NAN) that Mikel's absence from the home and away fixture against Libya did not affect the Eagles, and now would not be different
The Super Eagles will take on the Bafana Bafana on nov. 17 in Johannesburg in a 2019 Africa Cup of Nations (AFCON) qualifier.
The former Green Eagles captain said the Super Eagles were capable of beating the Bafana Bafana with good focus and team spirit.
"We should remember that Mikel was not in the match against Libya and yet Nigeria came out victorious.
"So, his absence in the South Africa match may not have any negative impact on the team,'' he said.
Chukwu, who captained the Green Eagles to win the 1980 AFCON in Lagos, told NAN that only the coach could specifically say why Mikel was not listed in the squad.
He said coach Gernot Rohr was firmly in charge of the Super Eagles and should be allowed to work with the list of players he wants.
Rohr has invited players for the AFCON qualifier and the international friendly match against Uganda.
South Africa had beaten Nigeria 2-0 in Uyo on June 10, 2017 in their opening game of the qualifiers.(NAN)
Subscribe for latest Videos