Dr Ogbonnaya Onu, the Minister of Science and Technology, has said that culture through arts and crafts was a key element to world peace.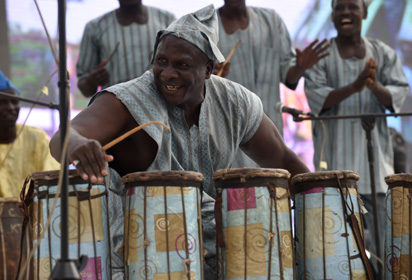 Onu said this at the closing ceremony of the 11th International Arts and Crafts (INAC) Expo, organised by the National Council for Arts and Culture (NCAC) in Abuja on Saturday.
The expo had the theme: Networking Nigerian Crafts to the World.
The minister described the expo as an extraordinary cultural event meant to unite not only Nigerians but the world.
"Nigeria has a very rich past, our culture is number one. The world marveled when they saw the artifacts from Eburoku, Ile Ife, from Benin, and what the world found in the Jos, Plateau.
"The North culture till today astonishes the very best in the world. I do not have enough words to thank the DG of NCAC and our extraordinary cultural ambassadors for putting this event together.
"This 11th edition is historical, because today when I went round the stands of 27 countries coming from four continents of the world, I was astonished.
https://www.vanguardngr.com/2018/11/2019-presidency-why-the-fulani-do-not-trust-igbo-general-gbor-apga-presidential-candidate/
"What we have during this exhibition is the best way to build peace in the world, because we are using what is common to humanity; we are using our arts and crafts to bind ourselves together.
"It built the bridges that can unite all humanity, because no matter which country we come from, which continent, we are all humans and we all have the image of God in us.
"Also, what is common is our love for our own crafts, things we do to remember not just how we live but how we should live,'' he said.
Onu also said that the exhibition opened a new window to change the narratives and perception of how the world sees Nigerians.
"All that people say about Nigerian which are not true, they will know that Nigeria is a very hospitable country, that we love peace, believe in peace, works for peace.
"A country that will ensure that humanity will be one and all that is needed for the world to come together, that Nigeria will work tirelessly for peace to be achieved,'' he said.
Also speaking, the NCAC Director General, Otunba Olusegun Runsewe, commended the 27 countries that participated in the expo for having faith and trust in Nigeria.
"It's a window opened to network Nigerian arts and crafts to the whole world, and we believe that all the countries that participated today had shown faith.
"(They) trust and believe in the Federal Republic of Nigeria. This is to show that Nigerians are very hospitable," he said.
NAN reports that countries that participated were given special presents for their Presidents.
The countries included Burkina Faso, Pakistan, Sudan, Trinidad and Tobago, Syria, Iran, Tanzania and Bangladesh.
Others are; China, Gambia, Niger Republic, India, Korea and Hungary.
Nigeria's first female drummer, Ara Lola, performed on stage with her dance troupe to entertain participants and guests at the closing ceremony. (NAN)
https://www.vanguardngr.com/2018/11/foreign-flight-operations-air-peace-decries-intl-politics/