By Dirisu Yakubu
ABUJA – The Peoples Democratic Party, PDP, has tasked Vice President, Yemi Osinbajo, to search his soul, seek forgiveness and make restitution for entangling himself in alleged corruption and sharp practices in the concealment of N5.8 billion Northeast Intervention Fund.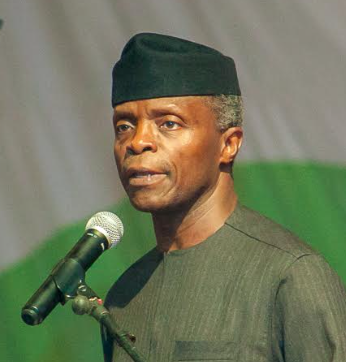 In a statement by its spokesman, Kola Ologbondiyan, the party said "it is heart-rending that Osinbajo, despite his sanctimonious posturing, is being fingered in the frittering of the N5.8 billion meant for the purchase of food and general welfare of suffering Internally Displaced Persons, IDPs, in the Northeast."
The statement read: "Professor Osinbajo should know that he has come to the end of the road and that Nigerians have completely lost faith in him, since the House of Representatives exposed his complicity in this unpardonable debauchery against weak and vulnerable citizens.
"Instead of asking for forgiveness and making restitutions, Osinbajo is busy trying to divert attention from the reeking corruption of the Buhari administration, while bandying figures in an attempt to distance himself from the failures of this administration.
"Is it not revealing of the arrogance of this administration that Osinbajo, even in the face of indictment by the House of Representatives, still conjures the temerity to confront Nigerians and try to wave off this corrupt act?
"We ask; how can Osinbajo find inner peace when all the six states of the Northeast reported that they never received the emergency intervention for food security?
https://www.vanguardngr.com/2018/11/breaking-why-were-bringing-back-diezani-for-trial-efcc/
"From the probe, which exposed how the Vice President, then as Acting President, in 2017, drew N5.8 billion from the Consolidated Revenue Fund of the federation, without the appropriation of the National Assembly, only to superintend over the purported spending as the Chairman of Board of the National Emergency Management Agency, NEMA, it is clear that it was never in the interest of the suffering and displaced masses."
Subscribe for latest Videos