Gov. Oluwarotimi Akeredolu of Ondo State on Tuesday, disclosed that his administration had so far spent N9 billion to construct, maintain and rehabilitate roads in the state since its inception.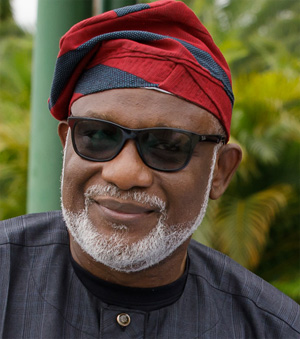 Newsmen report that Akeredolu assumed office on Feb. 24, 2017 as the Ondo State Governor.
Akeredolu disclosed this in Akure during presentation of cheques to owners of property affected by Akure, Ikare, Owo township roads and construction of Ore flyover.
He explained that every sector of the state had been touched positively, adding that his administration had resolved to keep on delivering on his electioneering promises to the people of the state.
"Let me reiterate that our administration is irrevocably committed to the successful completion of all ongoing projects. All projects awarded will be duly paid for on satisfactory completion.
"The era of abandoned projects in the state has gone for good, we are not unaware of the limited funds at the disposal of government to meet the ever-increasing needs of our people.
APC crisis: Buhari meets Amosun, Akeredolu, Fayemi
"We pledge that we shall ensure prudent management of resources, not only for the benefit of the privileged few but also the entire Ondo people," he said.
The governor emphasised that no one would be forced to bear any burden in the bid to accelerate the infrastructure development of the state.
"This is why our government is ensuring that all those whose property were affected by our development activities are duly compensated.
"Today marks the first phase of payment on the schedule.
" The quantum of money we are paying today is a demonstration of our good intention to the people, whose property were affected one way or the other.
Action Alliance disowns Okorocha, Nwosu
"The payment is to make it easy for them to relocate, acquire new property and continue life without hardship or encumbrances," he said.
Earlier, Taofeek Abdulsalam, Commissioner for Works and Infrastructure, assured that the huge investments in the area of road construction would be effectively and adequately protected with value for money.
He expressed the ministry's readiness to ensure that contractors would use only quality materials as contained in the Bill of Engineering Measurement and Valuation (BEME), and work carried out according to specifications.
Also, Mrs Margret Akinsuroju, a beneficiary whose filling station was affected at Ore, commended the governor for the initiative to build a flyover in the town.
She expressed optimism that the project would be of immense benefit to motorists and residents of the town.
NAN