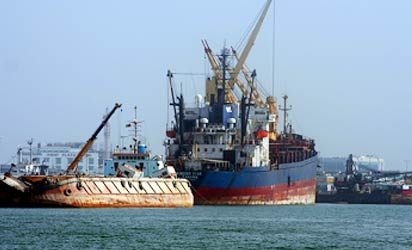 Sea-port
…says Nigeria yet to explore maritime potential
A maritime expert and also Chief Executive Officer, Safewater Energy and Environmental Restoration Limited, SWEERGLOBAL, Dr Thaddaeus Thompson, has tasked the Federal Government on dredging and ports' rehabilitation across the country in order to explore its maritime economy for massive flow of foreign direct investments.
Thaddaeus stated this in an interview, while baring his mind on the neglect of some major seaports in the country that would have long time open the economy for aggressive investment, competition and job creation for millions of Nigerians.
According to him dredging will increase access for heavier sized vessels to enter and leave the seaports daily, as well as increase the number of available sailing days per year, therefore Nigeria should capitalize on its available resources to achieve this in reviving this key and critical economic assets of the nation.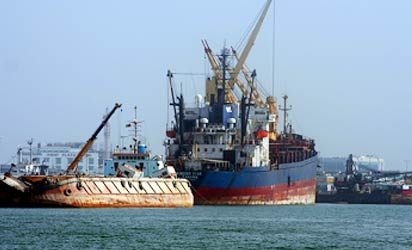 He said: "The need for Nigeria to significantly improve shipping access to accommodate larger and more vessels cannot be overemphasized. At the core of the country's strategic planning to support major projects and diverse port users, must be plans for fully loaded LNG tankers, dry bulk carriers and new cruise liners.
"The economic downturn in Warri, Focados, Burutu and Port Harcourt, just to mention a few could be attributed to the federal government's failure to capitulate the importance of keeping the seaports dredged and functional.
"How come all the seaports in the eastern part of Nigeria were allowed to dissipate? With the oil industry nearby, the region could easily have become an economic leverage that investors will find hard to ignore.
"Larger vessels which regularly call on the Lagos Ports will have extended tidal access to the mid-eastern and eastern ports after the dredging operation are completed. This will allow for 98 per cent all tide access for 12 m+ deeper draft vessels including mega cruise ships and carriers of LNG, dry bulk, petroleum and liquid bulk. I strongly recommend that investors invest in dredging projects at both operational and non-operational Nigerian seaports, because this will produce significant productivity gains for commercial shipping."
He further pointed out that, "With an investment of $3.8 million a dredging project can kick off to remove approximately 105,000 m³ of sand and sediments from a 450 meter wide and approximately two kilometers long section of a channel.
https://newlive.vanguardngr.com/2018/10/dredging-river-niger-panacea-to-perennial-flooding-wief/
"According to a SWEERGLOBAL research report at Middle Pass, adjacent to Charles Point Patches, dredge spoils could have a negative impact on the environment; hence, there must be a depository somewhere afar off and at least 200 meters away from the port area to minimize environmental impact.
On funding ports' rehabilitation and infrastructure he said, "The government must move quickly on the project by contracting existing dredging companies and foreign companies who already work within the harbour or have experience in the field to create the access channels for the new Marine Supply Base, MSB, extending the stay of dredging boats should be part of the strategic partnership.
"To create significant efficiencies and save time, local dredging companies must be part of the deployment team. The project for dredging a seaport the size of Warri can be completed within 6 months. An additional one year or less can be estimated for the remaining infrastructure to commence full operation.
"Within the same time frame, community consultations, including engagement with the Environment Center and the local fishermen, followed by environmental approvals prior to dredging work and final surveys must be completed. At least a target of 14 m must be achieved to enable larger vessels to the ports", he added.