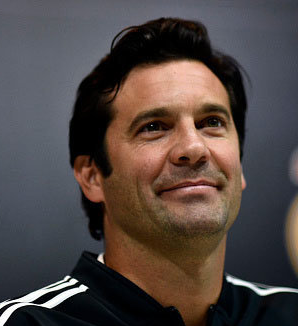 santiago solari
Santiago Solari has said he will not hold back Real Madrid's 18-year-old striker Vinicius Junior but insists the teenager still needs time to mature.
Excitement around the 45 million euro ($51 million) summer signing is growing, particularly after it was his shot that inspired Madrid to a 2-0 win over Real Valladolid on Saturday.

Vinicius came off the bench at the Santiago Bernabeu and many believe he now deserves a place in the starting line-up against Viktoria Plzen in the Champions League on Wednesday.
"We're all excited," said Solari, who is in charge at Real on a temporary basis, after Julen Lopetegui was sacked last week.
"He's very young and has his whole future ahead. He will be a complete footballer in the future and when a player is ready, he will play. It doesn't matter about the manager, no-one can hold back the talent.
"But we have to take it slowly. He has a lot of things to learn, of course, but he also knows things you can't teach. He is raw and his football transmits happiness."
Solari knows Vinicius well from his time coaching Madrid's B team, Castilla, this season.
Like the Brazilian, Solari has been promoted after Lopetegui was dismissed and two wins on the bounce, the other against Melilla in the Copa del Rey, have helped restore morale.
Solari, however, would not be drawn on his chances of remaining in charge long-term.
https://newlive.vanguardngr.com/2018/11/usain-bolt-says-soccer-career-not-over/
"It's one step at a time," he said on Tuesday. "I'm very committed to this role whether it's for two days or a week. It's the same."
A lack of obvious alternatives could also play in Solari's favour, while Spanish regulations dictate that he cannot be an interim coach for longer than 15 days.
Madrid travel to Celta Vigo on Saturday in La Liga, after which, the club will have to make a decision.
"It is never easy when a club changes coach," said Madrid defender Nacho.
"Solari comes from inside the club and has started well. The players are happy with him but it is not our decision to make."
Madrid sit second in Group G, level on points with Roma, after beating Plzen 2-1 at home in a nervy encounter last month.
"We are picking up confidence bit by bit," Nacho said.
https://newlive.vanguardngr.com/2018/11/domestic-staff-etiquette2/
"It is not easy at Madrid when you go a few games without winning but now we have won two on the bounce, with two clean sheets, and we are feeling better."