By Ebun Sessou & Oyetade Oyetunji
The Lagos State House of Assembly Committee on Public Accounts (State) has commenced investigation into audit reports of over 200 Ministries, Departments and Agencies (MDAs) for probity and accountability.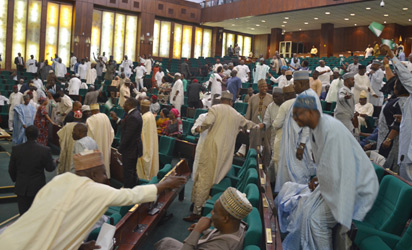 The Committee's Chairman, Mr. Moshoood Oshun, who spoke with newsmen after the committee interrogated the Physical Planning Permit Authority, said that the exercise was legal to ensure public funds were judiciously expended.
Forteta carpets Uduaghan over comments on Delta South voting for APC
According to him, the exercise is an annual ritual for House Committee whenever the Auditor-General concludes  audit of  all the MDAs in Lagos State. Adding that, the exercise is constitutional and assured a fair play and treatment with every MDAs.
He said: "Lagosians stand to know how their money is being expended. The exercise will ensure that public funds are spent in the right way. There are processes that must be followed. Lagos residents voted for us to protect their interests, protect their money and protect the state. This is one way of doing that.
Operation Crocodile Smile's curbed piracy, militancy in A-Ibom – LG boss
"We want to make sure that all tax-payers money is judiciously spent. We want to make sure that the right thing is done; we want to make sure that what has been appropriated for is done. Lagosians gain a lot from this kind of exercise", he said.
On the challenges facing some of the MDAs in meeting their expectations, Oshun said that committee would consider them and find solutions to ensure their optimal performance.
According to him, the Physical Planning Permit Authority has done very well in terms of revenue generation and achievements, though there is  room for improvement.