By Emmanuel Aziken, Political Editor
THE nomination of Dr. Babafemi Hamzat as the running mate to Mr.  Sanwo-Olu, the All Progressives Congress, APC, governorship candidate in Lagos, has confirmed full political reconciliation of former Governor  Babatunde Fashola and his predecessor, Asiwaju Bola Tinubu.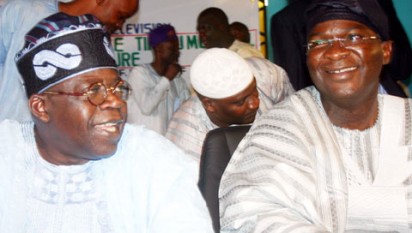 'How Kaduna traditional ruler was killed in the presence of ransom bearer'
The nomination has also opened the prospect of a working alliance between the two major political groups in the Lagos State chapter of the APC, Mandate Group and Justice Forum.
Sanwo-Olu belonged to the Mandate Group while Hamzat is a scion of the Justice Forum, which until recently had his father, Alhaji Olatunji Hamzat, now a traditional ruler, as head of the group.
The crumbling fortress in the Southwest
Insinuations of bad blood between Fashola, the immediate past governor of Lagos State and Tinubu, the penultimate governor, flowed from the sharp differences of the two men ahead of the 2015 governorship election when both men were believed to have supported different tendencies.
Hamzat, one of the eggheads nurtured in politics by Asiwaju Tinubu, who also served in the Fashola cabinet eventually flowed with Fashola at the time of the Fashola succession. He was one of those alongside Olasupo Sasore allegedly pencilled down by Fashola to succeed him at the end of his tenure in 2015. Hamzat indeed contested for the ticket with Governor Akinwunmi Ambode but could not prevail given Tinubu's heavy backing for the latter.
Associates of Fashola including Hamzat, who were left in the cold eventually found relevance in Abuja where the latter served as a special adviser to Fashola in the ministry of Works, Ppower, and Housing.
"The reconciliation was effected between July and August," a source privy to the development said, yesterday.
When Sanwo-Olu indicated interestd, and Hamzat also took forms to contest for governor, it was predicted to be a showdown between the Mandate Group and the Justice Forum in one perspective and also, as a confrontation between Tinubu and Fashola.
However, Hamzat, late September dropped his ambition endorsed Sanwo-Olu against the aspiration of the incumbent, Ambode.
Multiple sources informed Vanguard that the endorsement was a spin-off of the reconciliation between Tinubu and Fashola, who it appeared were separately at odds with the incumbent, Ambode.
A source in the Sanwo-Olu campaign while confirming the import of the development told Vanguard yesterday:  "It simply means the coming back of the old forces and that they are all on the same page. It also means that the future of Lagos is in the hands of very comfortable people."
"Don't forget that Hamzat contested election with Ambode and came second. Putting him with Sanwo-Olu means that what Lagos is going to get is the value of two good heads but for the price of one. Indeed, you cannot get it better," the source enthused, yesterday.