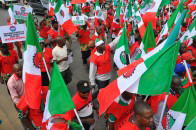 Protest against PMS price hike in Abuja
To picket, force compliance, advises Nigerians to stay indoors
No plan to clampdown on labour leaders—FG
JAF backs strike, seeks market women, artisans, others' support
Labour shun meeting with FG
Strike won't cause fuel scarcity, NNPC insists
By Victor Ahiuma-Young, Michael Eboh & Johnbosco Agbakwuru
Ahead of tomorrow's start of a nationwide indefinite strike to compel government to implement the N30,000 minimum wage, organised labour has alleged plans by the Federal Government to clampdown on essential services unions and their leaders.
It also last night shunned a meeting organised by the Federal Government to resolve the impasse on the new minimum wage, as none of the labour leaders attended the meeting in the office of the Secretary to the Government of the Federation, Boss Mustapha.
The labour leaders insisted that tomorrow's strike would go on as planned and urged workers and allies in the civil society to remain steadfast and unwavering in the collective quest for justice for workers and the masses.
Leaders of Nigeria Labour Congress, NLC; Trade Union Congress of Nigeria, TUC, and United Labour Congress of Nigeria, ULC, also advised Nigerians who will not participate in mass rallies and picketing to stay indoors to avoid unpleasant situations.
This is even as the ULC in a circular to members, affiliates and state councils, dated November 3, directed them to proceed on a nationwide indefinite strike from tomorrow.
The circular, signed by its Acting General Secretary, Onyeka Chris, read:  "All affiliates and workers of the United Labour Congress of Nigeria, ULC, are by this circular called to recommence indefinite nationwide strike by 00.00 hours Tuesday, November 6, 2018, until counter directives come from the congress. Total compliance without exception is expected.
"As we collectively pursue better wage for Nigerian workers, we urge you all to remain vigilant, focused, refuse to be distracted and deterred by the antics of the agents of the federal government."
Labour alleges plans by FG to clampdown on union leaders
In a statement by Ayuba Wabba, Bobboi Kaigama and Joe Ajaero, Presidents of NLC, TUC, and ULC, respectively, organised labour claimed that Friday's joint meeting of the Central Working Committee, CWC, of the labour centres in Lagos, uncovered plot to clampdown on Labour.
The statement read:  "The Joint CWC similarly condemns government for its design/plan to clamp down on Labour via selective and erroneous invocation of the 'no work, no pay" clause in the Trade Disputes Act, noting that the right to strike is both a human and trade union rights and cannot be abridged as it is what distinguishes a worker from a slave.
"There is nothing new about this clause as it has been in our statutes for over 40 years.  The Joint CWC urges every worker in Nigeria and our allies in the civil society to remain steadfast and unwavering in our collective quest for justice for ourselves and for the masses of our people.
''Organised Labour will not be cowed or deterred from fighting for our rights through any frivolous and mischievous court action and processes.
"In line with our resolve to ensure total compliance with the nationwide strike, the Joint CWC also directs that the strike of November 6, 2018 should be complemented by daily picketing by workers all over the country."
Speaking further on the alleged clampdown, General Secretary of NLC, Dr. Peter Ozo-Eson, said no government in history had ever implemented the no work, no pay clause, not even under the worst military dictatorship, saying time shall tell.
He declared that the speculated clampdown of Labour leaders was a none issue as they (Labour leaders) were undaunted and resolute to go ahead with the planned strike from tomorrow unless government met Labour demand before tomorrow .
We've no such plan —FG
Meanwhile, reacting to the alleged clampdown, Minister of Labour and Employment, Dr. Chris Ngige, denied such moves, saying "there is no such arrangement to my knowledge. The Committee on National Minimum Wage Tripartite Committee meeting is slated for 11 am tomorrow (today)."
JAF backs strike
Meanwhile, the umbrella body for pro-workers' civil society groups, under the aegis of Joint Action Front, JAF, yesterday, threw its weight behind the strike, urging all working people in the country to maximally support the industrial action.
JAF, specifically, in a statement in Lagos, called on artisans and traders, professionals, women, farmers, youths and students, religious groups, among others, to ensure total compliance.
In the statement signed by its Chairman and Secretary, Dr. Dipo Fashina and Abiodun Aremu, respectively, JAF contended that minimum wage should be mandatory for all employers regardless of the number of employees.
The statement read:  "The current demand for a new national minimum wage has gone beyond the stage of negotiation, hence the N30,000 agreed at the Tripartite Committee, which is even very poor (@ US$83 per month, compared to 1981 minimum wage of N125 @ US$250), represents an irreducible minimum and, therefore, not negotiable.
https://newlive.vanguardngr.com/2018/10/minimum-wage-organised-labour-frowns-at-fg-delay-tactics-embarks-on-protest/
"What is clear today from the unnecessary tensions being generated in the polity by the APC's government and its officials is that none of the 36 state governors and the Federal Government, irrespective of political parties (APC, PDP and APGA), like in past struggles for upward review of wage, is committed to pay the minimum wage without being compelled by struggle to do so."
Strike won't cause fuel scarcity, NNPC insists
Reacting to the proposed strike, yesterday, Nigerian National Petroleum Corporation, NNPC, insisted that there was no impending petroleum products scarcity in the country, arising from the threat of strike action by the organised labour.
In a statement in Abuja, Group General Manager, Group Public Affairs of the NNPC, Mr. Ndu Ughamadu, advised motorists not to engage in panic buying, stating that the corporation would do all it could to ensure the strike, if embarked upon, does not impact negatively on fuel distribution nationwide.
He disclosed that the NNPC currently had 39 days petroleum products sufficiency and about 25 days products availability on land, stressing that motorists and other consumers of petroleum products were assured of adequate stock to meet their energy needs.
Ughamadu advised Nigerians to remain vigilant and volunteer information to the Department of Petroleum Resources, DPR, or to any law enforcement agency around them, on any station that attempts to take advantage of any prevailing situation in the country at the expense of the consumers.
Labour shuns meeting with FG
Meanwhile organised labour last night shunned the meeting organised by the Federal Government to resolve the impasse on the new minimum wage.
One of the key officers of Nigeria Labour Congress, NLC, told Vanguard that the meeting was irrelevant as the only meeting they would attend was the one scheduled today for the signing of the report of the Tripartite Committee.
NUPENG yet to decide on strike
Meanwhile, Nigeria Union of Petroleum and Natural Gas Workers, NUPENG, said last night that it had not taken any definite stand on the proposed strike scheduled to start tomorrow.
In a statement signed by General Secretary, Comrade Adamu Song, it said:  "Contrary to misguided publication by some print media, the leadership of NUENG wishes to inform the general public that it has not taken any definite stand on the proposed nationwide industrial action.
"We are mindful of the fact that consultations are still ongoing at different levels to resolve all issues at stake.
"We urge the general public to avoid unnecessary panic and confusion. We also urge all our members to remain calm and wait for formal directive from the national secretariat of our great nation."