By Soni Daniel
Abuja – Julius Berger Nigeria Plc, has for the third consecutive time won the Building and Construction Sector Leadership award at the highly coveted Top 50 Brands in Nigeria event, which was held at at the weekend in Victoria Island Lagos.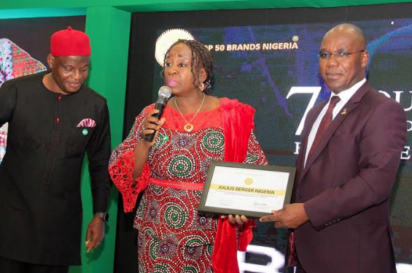 Before conferring the prestigeous industry sector award on the firm, the Chief Eexecutive Officer of IAMBRANDNIGERIA, the organizers of the Top 50 Brands in Nigeria awards, Mr Taiwo Oluboyede, described Julius Berger as a widely acknowledged, operationally sound, technically respected and a glowing benchmark brand differentiator in the area of its core competence.
According to Mr Taiwo Oluboyede, "Brand is that thing that makes a consumer choose a product/service over another. It is subliminal and an intangible factor that uniquely distinguishes one from the others."
https://www.vanguardngr.com/2018/11/youths-must-take-over-jobs-leadership-positions-sowore/
OluboyedeHe added that beyond the pricing of a product or service, patronage and choice are often seriously made by the consumer's experience as well as the promise of the particular brand; both of which, he said, verifiably define the superior and valuable Julius Berger brand.
The CEO explained that in order to ensure the objectivity of the definitive Top 50 Brands in Nigeria awards, the Brand Strength Measurement, BSM, model of analysis was used both for the nominations and the selection of eventual winners in all categories.
According to him, in the evaluation and rating of the Top 50 Brands in Nigeria in 2018, the Brand Strength Model (BSM index) tests a brand's ability to deliver its promise to the consumers from the consumer's point of view.
"The model uses basic qualitative elements with seven variables. The variables include brand Identity as top on the mind awareness by consumers; optimal social media engagement; quality elements such as ISO/SON ratings; market and category leadership; products and service delivery processes and innovation; nationwide presence or spread; and environmental and community consciousness and friendliness which consolidates into proactive and healthy corporate social responsibility programmes".
The Head of Media Relations of Julius Berger Plc, Prince Moses Duku, who received the award on behalf of the company, expressed delight over the recognition and promised that the firm would continue to promote excellence and quality in the discharge of its work in the country.
"It is and remains the promise of Julius Berger Nigeria Plc to maintain our earned momentum and be only consistently and increasingly reliable. We promise to remain ever excellently and innovatively Julius Berger to our clients," Duku promised.
It will be recalled that Julius Berger started work in Nigeria with the construction of EKO BRIDGE in Lagos in 1951. Years of steady growth had followed that pioneer project during which JB, as Nigerians fondly call the company, grew to become the dynamic Nigerian company it is today.
Throughout this time, Julius Berger has deployed progressive construction methods to ensure that innovation and quality are prioritized for the benefit of its clients.
https://www.vanguardngr.com/2018/11/coscharis-rolls-out-christmas-offer-for-bmw-ford-customers/