Italian police said on Wednesday that they had seized 2.6 million euros ($2.9 million) in cash and property from Sampdoria club president Massimo Ferrero, the club and five other people as part of a financial investigation.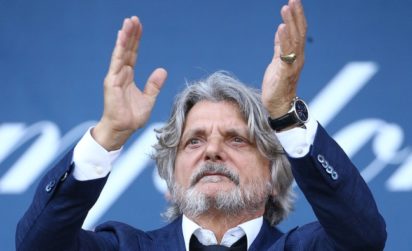 The investigators are particularly interested in funds related to the 2015 transfer of Pedro Obiang, a Spanish midfielder, from Sampdoria to West Ham.
The investigation centres on fake receipts and invoices, money laundering and fraud allegations, and relates to the flow of money between different companies in the "Ferrero Group".
Ferrero is a film producer and owns cinemas in Rome.
The Guardia di Finanza, the Italian financial police, said in a statement that a sum of 1.2 million euros related to the Obiang sale could have been diverted "and partly reused to clean up the financial positions of other indebted companies in the group and to finance two other related companies in the Ferrero group" as part of the production of a film.
The police statement said they had seized financial assets, including more than 200,000 euros worth from the club, and a building in Florence.
Ferrero, 68, purchased the Genoa club in the summer of 2014.
They won their only Serie A title in 1991, with their biggest European success the Cup Winners' Cup in 1990.
This season they are 12th in Italian top-flight league, 21 points behind champions Juventus.