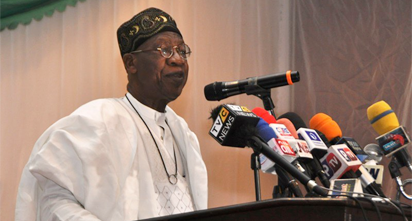 Alhaji Lai Mohammed
By Anthony Ogbonna
Watch the video below:
Minister Information and Culture, Lai Mohammed, has said that it costs the Nigerian governments N3.5 million naira a month to feed Ibrahim El-Zakzaky, the leader of the Islamic Movement in Nigeria, IMN, otherwise known as Shiite.
Army/Shiites Clash unwarranted, Lawless – CSOs
Mr. Mohammed made the statement which has gone viral on social media on Wednesday,  following the decision of the Kaduna court which denied the IMN leader bail.
The IMN leader and his wife have been in detention after they were arrested in Zaria, in December 2015. They were first arraigned on May 15, 2018 and charged over alleged murder, culpable homicide, unlawful assembly, and disruption of public peace, among others.
They have subsequently been denied bail severally while El-Zakzaky's followers have continuously been having violent clashes with the security operatives, especially the Nigerian army.
After a bail application was entered again in court yesterday and was denied, the minister of Information was to have addressed some journalists where he informed them that El-Zakzaky was kept in a safe place.
He however added that it costs the Nigerian government a whopping sum of N3.5 million naira a month to feed the IMN leader who is in detention.
According to the minister, "the issue of whether, where he is, let's keep it off record. He is in a residence and eating; I mean, it costs the government N3.5 million naira every month to feed him."
"I asked. We don't want to inflame passion. Islamic Movement in Nigeria are a different kettle of fish."
Meanwhile, MR. Mohammed's statement has sparked outrage on social media with many expressing shock and disbelief at the minister's claim on the feeding of the Shiite leader.
Some have even said it was not economical for the government to keep holding the IMN leader in detention if such cost is being incurred.
Below are people's reactions to the statement:
PDP Vanguard‏ @PDPVanguard "It costs the Nigerian government N3.5m per month to feed ElZakzaky." – Lai Mohammed. Are they feeding him with gold rice? Does he drinks diamond water? The corruption under Buhari did it internship at "HAVARD INSTITUTE OF STEALING" PMB and Corruption/forgery are 5&6."
Kwankwasiyya  🔴‏ @dadiyata "A possible breakdown of Zazzaky's DAILY consumption going by Lai Mohammed's claim that it cost the govt 120K daily to feed him. One Big Ram One Bag of Rice 5 crates of eggs 5 Loaves of Bread 10 Bottle water 3 Mudu of Garri 1 Mudu of Sugar 4 Tins of Milk & Milo"
Igala_King‏ @I_Am_Ilemona "It costs the Nigerian government N3.5m per month to feed ElZakzaky." – Lai Mohammed. 1. This is sounds like a lie. 2. It makes no sense to continue incurring that cost instead of respecting the order given by Justice Gabriel Kolawole & releasing the man"
Zain Ameen‏ @zinadabo1 "So I saw Lai Mohammed during an interview saying @MBuhari spends 3.5 million in feeding El-zakzaky monthly. Please are they feeding the Man with gold rice and diamond beef? they re keeping him in custody as their leakage for siphoning funds."
Shame on @MBuhari , @ProfOsinbajo @APCNigeria
Lei Moh says It cause the Govt 3.5M Naira to feed Sh #Zakzaky every month.There is no liar worst than Lie.@zinadabo1 @Tutsy22@segalink @farooqkperogi @Amaka_Ekwo @AgorasBlog @adeyanjudeji @ELBINAWI @PremiumTimesng @ChidiOdinkalu pic.twitter.com/WqoJDp41XD

— shuaib ahmad (@Sh4Zk) 7 November 2018