By Peter Egwuatu
The equities market on the Nigerian Stock Exchange, NSE started the week (Monday) on a negative note, as the All Share Index, ASI fell by 0.2 percent to close at 32,143.41 points, owing to sell pressure in banking stocks.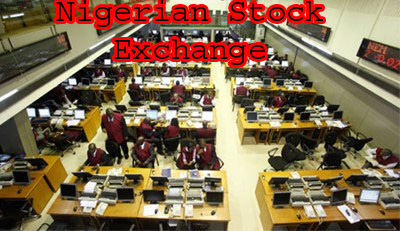 Accordingly, the Month-to-Date and Year-to-Date losses increased to 0.99 percent and 15.95 percent, respectively.
The Banking (-1.06 percent) and Insurance (-1.30 percent) Indices were top losers, with 8 stocks (of the 12 losers) in the financial services segment (7 banks, 1 insurance company) bearing losses.
In particular, respective losses in Guaranty Trust Bank (-1.75 percent) and NEM Insurance (-8.21 percent) stocks led to the Banking Indices' negative returns.
On the flip side, the Consumer Goods (+0.17 percent) and Oil & Gas (+0.75n percent) Indices closed positive, owing to gains in Flour Mills (+7.14 percent) and Oando (+6.45 percent) stocks. The Industrial Goods Index closed flat.
Bendel Insurance beat 3SC, edge closer to Premier League
Market breadth turned positive with 14 gainers and 12 losers, led by REGALINS (+10.00 percent) and Abbey Buildings  (-9.40 percent) stocks respectively. Total volume of trades rose by 17.19 percent to 142.11 million units, valued at N1.56 billion, and exchanged in 2,772 deals.
Meanwhile, Guaranty Trust Bank topped the laggards' table with a loss of 65kobo to close at N36.50 per share. Zenith Bank came second with 40kobo to close at N24.00 per share, while NEM Insurance dipped 23kobo to close at N2.57 per share. Diamond Bank lost 12kobo to close at N1.16, while Abbey shed 11kobo to close at N1.06 per share.
On the other hand, Flour Mills led the gainers' table, gaining N1.10 to close at N16.50 per share. Oando followed with a gain of 30kob to close at N4.95, while Ecobank Transnational Incorporated garnered 15kobo to close at N15.70 per share. PZ Cusson also added 15kobo to close at N9.15, while FBN Holdings improved by 15kobo to close at N7.60 per share.
However, activity level was mixed as volume traded increased by 17.0 percent to 142.0 million while value traded dropped by 2.0 percent to N1.6 billion. Diamond Bank (32.2million units), Guaranty Trust Bank (20.0 million units) and UBA (N16.1million units) were top traded by volume while Guaranty Trust Bank (N738.1million), Zenith Bank (N285.2million) and UBA (N128.3million) were top traded stocks by value.
Heritage Bank complements CBN in agric finance
Analysts at Afrinvest Research said: "Our expectation, the bearish trend from last week was sustained in Monday's session. However, we opine that this trend will persist till midweek while maintaining our bearish market outlook over the near term."