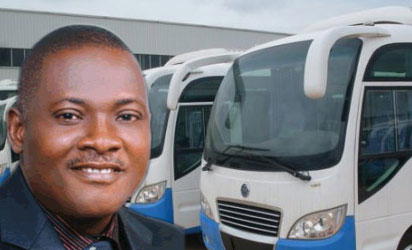 Founder and chairman of Nigeria's automobile company, Innoson Motors, Innocent Chukwuma.
By Vincent Ujumadu
AWKA—NO fewer than 30 traditional rulers from Anambra South senatorial zone rose from a meeting at the palace of Igwe Kenneth Orizu of Nnewi yesterday, urging President Muhammadu Buhari to prevail on the Economic and Financial Crimes Commission, EFCC, to follow laid down rules in handling the matter involving the chairman of Innoson Group, Chief Innocent Chukwuma and Guarantee Trust Bank.
The monarchs said they decided to intervene in the matter because it was assuming a dangerous dimension, regretting that Chukwuma, who ought to be encouraged in his determination to help Nigeria's economy grow, was being distracted and humiliated by the EFCC for no justifiable reasons.
EFCC denies starving detainees
The monarchs accused EFCC of violating legal procedures in the prosecution of the case against Chukwuma and his company.
The statement read in part: "As leaders and elders of the land, knowing fully well, the roles and activities of EFCC, we have decided to call on you, Mr. President, to call EFCC to order on this matter so as not to allow this little crisis degenerate into a level that will be difficult and costly to resolve.
"We wonder why EFCC would go to arrest a man who provides direct jobs to over 7,000 workers and indirect jobs to over 15, 000 people, and a revered industrialist who made Nigeria proud by establishing the first vehicle manufacturing plant in West Africa.
"It is on record that EFCC never extended any  invitation to Chukwuma prior to the invasion of his house to bundle him  out like a common criminal. This, to us, is an insult to the Igbo race and the nation in general.
"Soon after his house was invaded, EFCC filed a criminal charge against Chukwuma and his company, Innoson Nigeria Ltd, in Lagos High Court irrespective of the fact that there was an existing case on the same subject matter and transactions as the one filed by the EFCC, which as of then and till now, is being prosecuted by the Attorney General of the Federation at the Federal High Court Ikoyi Lagos.
"This amounts to gross abuse of court process by the EFCC. We therefore wonder whose bidding EFCC is doing by not following due process of the law.
How Ukachukwu aborted Bianca Ojukwu's Senatorial Ambition
"In view of the foregoing, we, the Anambra South Senatorial Traditional Rulers Forum therefore resolve that: President Muhammadu Bugari calls on the chairman of EFCC, Ibrahim Magu to call his officers to order to follow laid down rules and regulation in handling its prosecution.
"The President should tell EFCC to stop displaying elements of bias in the business dispute between Innoson Nigeria Ltd and GT Bank."