By Dirisu Yakubu
ABUJA—THE Peoples  Democratic Party, PDP, yesterday said there was no cause for alarm, following the omission of Governor Aminu Tambuwal on the list of governorship candidates submitted to the Independent National Electoral Commission, INEC, for the 2019 elections.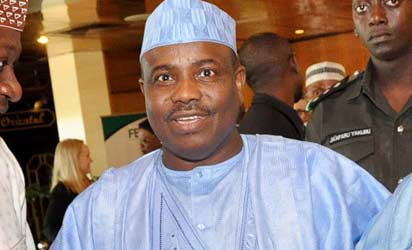 In a chat with Vanguard on the issue, an informed source at the party's national secretariat said the needful would be done at the appropriate time, even as he explained the circumstances surrounding the development.
Governor Tambuwal, it would be recalled, contested the Presidential ticket of the PDP but lost to former Vice President, Atiku Abubakar, who polled a total of 1,532 to emerge the flag bearer.
As a result, the 52-year old governor did not participate in the governorship primaries but he is eligible to seek a second term via the window of substitution.
"There is no cause for alarm; we are doing the needful and do not forget that as a presidential aspirant, he couldn't have participated in the governorship primaries. But there is room for substitution. So, his name will be submitted eventually," the source said.
https://www.vanguardngr.com/2018/11/sanwo-olu-meets-lagos-can-chairman-seeks-joint-efforts-against-poverty/
Asked when this would be done, he added: "We are following INEC timetable and directive. Once we get the greenlight, the party will do the needful.
'' We want to assure Nigerians in general and the good people of Sokoto State in particular that Governor Tambuwal is coming back to continue the good works he has started."
He called on Nigerians to continue to support the PDP, noting that having experienced life under the All Progressives Congress, APC; 2019 provides ample opportunity for the electorate to make an informed decision that will determine the fate of the nation.
https://www.vanguardngr.com/2018/11/2019-why-igbo-should-vote-for-buhari-byo-2/