Prince Tony Godday Erewa, an industrialist, has charged the Ilaje nation to reinvent itself economically, politically and socially in order to take its rightful place amongst the committee of nations, in Nigeria.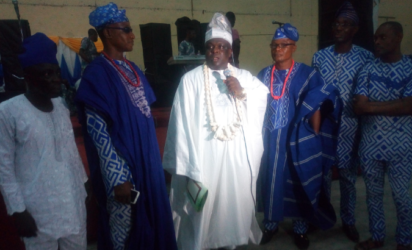 Prince Erewa stated this on Saturday while addressing the Ilaje people as the Chairman of Egbe Omo Ilaje Day celebration, the umbrella body of Ilaje's world wide, held at the National stadium, Surulere, Lagos State, charged them to be more united and sustain their peaceful nature, which the Ilaje's are known for.
https://www.vanguardngr.com/2018/10/chelsea-assistant-coach-charged-with-improper-conduct-after-melee/
He noted that the Ilaje's, "were amongst the first three ethnic groups to settle in Lagos and the first to settle in the coastline and have contributed greatly to the social-economic development of Lagos State and Ilaje's should be given what is due to them as a people."
He therefore, tasked Lagos state government to engage Ilaje's positively, in the task of building all inclusive Lagos state, because Ilaje's are very peaceful people.
The APC national leader, Bola Tinubu who was represented by Dr. Tayo Omawumi noted the important role the Ilaje's played in the stabilization of Lagos state.
He added that the contributions of the Ilaje nation to the development of Lagos cannot be over emphasized, "the Ilaje's are highly rated in Lagos and that is why I have came to identity with them on this maiden Ilaje Day celebration in Lagos."
Reemphasizing this point, the National
President of Egbe Omo Ilaje, Prince Iwamitigha Irowainu said that Ilaje's are not visitors in Lagos, therefore, they should not be marginalized and appealed to the state government to give to the Ilaje people what is due to them.
The guest speaker, Barr. Olusola Ebiseni in his keynote address stated also that the Ilaje, Awori and the Ijebu's were the aboriginal tribes of Lagos and not the Benin's who were erroneously claimed to be the founder of Lagos, he charged the Ilaje's to take parts in the politics of Lagos state.
https://www.vanguardngr.com/2018/11/court-vacates-order-against-benue-assembly/
He added that the Benin's only forays into Lagos territory in the 1550-1578 century through military expedition.
His Royal Majesty, Oba Ochichiomo Afolabi Oladimeji, Akokoniko, Ladrada 1, Olu Igbokoda, in his goodwill message reiterated the need for Ilaje's to be peaceful and be united in order to attract government interest.