Her name may not ring a bell but her face certainly will. Princess Kelechi Oghene who hit the limelight over a decade ago when she became the face of Delta Soap, has evolved tremendously. Armed with a  vision to create solutions by providing job opportunities for millions of women/youths around the world through fashion, the  model-turned-designer is the  Executive Director, GMYT Fashion Academy; the President, GMYT Foundation and the CEO, GMYT African Humanitarian Awards.   The retired Orange Drug brand ambassador tells more in this interview. Excerpt.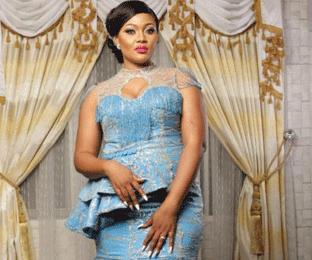 By Josephine Agbonkhese
How true is the assertion that fashion can be another 'oil' for Nigeria?
Fashion is fast-growing in Nigeria and is making waves all over the world. In fact, the value of the global fashion industry is put at 3,000 billion dollars and that's a whopping two percent of the world's Gross Domestic Product, GDP.
In Nigeria, this year alone, there's been series of fashion shows back-to-back unlike last year and the year that preceded it. There's always one party, function, award night, event or the other in Nigeria to attend and people are ready to spend a lot of money to look good and stand out in the crowd. So, yes, fashion can be another means of generating revenue if only our government will invest in the industry like governments do in other parts of the world.
…like in what nations for example?
The United States is an example. It has a 4 percent market share of the global fashion industry. The domestic value of the industry alone is put at $385.7 billion while employment in fashion-related industries is estimated to be 1.8 million.
Even here in Nigeria, GMYT Fashion Academy has graduated over 500 women and helped them start their businesses. This year alone, we graduated over 65 students and trained over 84 students for free under GMYT Foundation. Our alumnae are doing very well and some even own fashion academies; thus expanding our mission to create the next generation of entrepreneurs.
Tell us about GMYT Fashion Academy…
GMYT Fashion Academy is the leading fashion academy in West Africa as we speak and is working towards becoming the biggest in Africa. We are committed to the economic and social empowerment of women through fashion. We admit women into the academy and provide them professional training to become outstanding, ardent fashion entrepreneurs. We also admit women from different parts of the world. Some of our students are from countries like South Africa, Ghana, Brazil, Cameroon, etc.  Annually, we graduate over 100 students. They are not only certified but also given more publicity and recognition through our GMYT Fashion Academy Graduation & Fashion Show.
You've run this business for 13 years; what are the challenges faced as an entrepreneur?
Trust me, it's been challenging but what has kept me going is passion. Passion is that force that enables you to always make headway even when it seems like the ship is sinking. As an entrepreneur, I am faced with the pressure of living up to the standard; that has set me distinct. I wake-up every morning and see my ideas and standards being imitated by someone else. It can be disheartening but the joy of it all is that it drives me to do more and more differently as well.
Let us talk about your foundation; why and when was it founded?
GMYT Foundation is committed to economic empowerment of women through fashion. It admits women into the academy and trains them on scholarship. So far, the foundation has trained over 200 women for free. It was established in 2016 and we graduated the first set in June, 2017. This year 2018, the academy trained over 86 women for free and now I am currently embarking on a campaign to train 500 women for free starting from 2019. When I look around, I see a society of talents and potentials but with little or no opportunity. There's a whole lot of work to be done; people need to be empowered. You can imagine: as at 2017, the rate of unemployment in Nigeria increased to 18.80%.
I decided to train people for free in fashion since that is my area of strength—and that birthed the foundation's initiative. My aim is to ensure that more youths, women and girls are equipped with skills especially in fashion.
Does this have anything to do with your annual humanitarian awards?
The GMYT African Humanitarian Awards is an award that recognises leaders with positive influence, celebrates individuals that have contributed meaningfully to positive societal transformation, and created a huge impact in people's lives. Currently, we are about staging its 5th  edition which will, as usual, showcase a fashion show with the theme, "Bridal Bliss". The event which holds 24th November, 2018, in Lagos, will witness the official launch of over 84 designers, all showcasing bridal collections on the runway.
Tell us about your educational background and how you delved into fashion?
I am an alumna of the Lagos State University, LASU, where I earned a degree in Industrial Relation & Personnel Management, IRPM. I am also an alumna of the London School of Fashion. I've had training in HR Management at the Lagos Business School; a degree in Fashion Styling from Modus Academy in Dubai, and another from the STC Training Centre, also in Dubai. I still go for trainings to be more enlightened.
As for delving, I would say I was born into fashion. My mom was a seamstress and I was so close to her.  I learned sewing from her and that was where this passion began because she would always insist that I learn the rudiments of sewing.   She had a supermarket and also kept on doing different courses like the Institute of Chartered Accountants of Nigeria, ICAN, programmes. She was a workaholic until she passed on in 2012. I'm so proud of her. Today, I have an amazing team; from the tailoring section to the make-up section and school. Now, I'm handling over 57 women in this short time and there's no problem.
Looking back now, what lessons have you learned?
Well, I have learnt so far that everything I have ever wanted is on the other side of fear and it doesn't matter how slow I go; as long as I never stop pursuing my goal because all my dreams can come true if I have the courage to pursue them. Also, my greatest glory is not in never falling but in rising any time I fall.