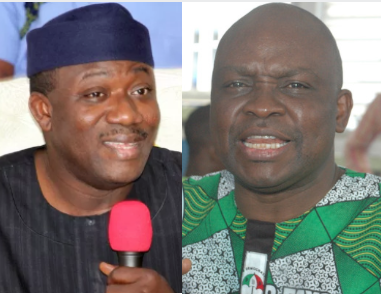 Fayemi and Fayose
Gov.  Kayode Fayemi of Ekiti State, yesterday, clarified his stance on the fate of his predecessor, Mr. Ayodele Fayose.
Fayemi and Fayose
Governor Fayemi spoke with State House correspondents after a closed-door meeting with President Muhammadu Buhari at the Presidential Villa, Abuja.
Fielding questions on whether he would probe his predecessor, Fayemi explained that there was never a time he said he would probe Mr Fayose.
He said: "Well, I am sure I have never said anything about a probe and I do not say anything about probe.
"Looking into books is the duty of any new governor, you need to know what you found in place, and I just talked about visitation panel into the education sector in the state.
"There are other sectors in the state, and it will be remiss of me not to check what we found when we came into office and share that with the citizens of the state.
"It is just accountability, not probe. I am not the Economic and Financial Crimes Commission, EFCC, I am not ICPC, there are institutions that are charged with the responsibility to do that and it's entirely up to them if they want to probe the governor or not.
READ ALSO:Oni V Fayemi: A case to watch
"It is not my business, I leave Fayose to God, I have said that before."
Speaking on the state of education, Mr Fayemi said that Ekiti had a tradition of being the intellectual capital of the country but it seemed to have lost that edge lately.
He said: "Before now, Ekiti used to be the leading state in terms of school enrollment in the country but the latest figures we received from the Universal Basic Education Commission, UBEC, makes it clear that we are lagging far behind.
"We have moved from 96 per cent enrolment in the entire country to about 45 per cent meaning that about 55 per cent of our school-age children are out of school.
"That is unacceptable in a state like Ekiti and we need to find out what has happened between 2014 and 2018 leading to this appalling figure in terms of school enrolment."