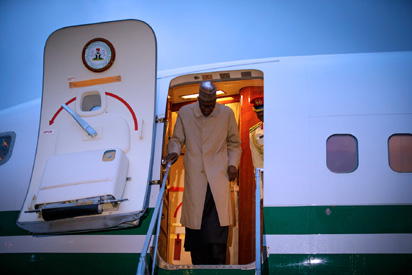 Buhari
World leaders will put on a show of unity this weekend as they commemorate 100 years since the end of World War I, but modern-day tensions will be bubbling under the surface at the remembrances in Paris.
French President Emmanuel Macron will host around 70 leaders on Sunday for a ceremony on the Champs-Elysees to mark the signing of the Armistice between Germany and Allied forces that ended the fighting in Europe.
It will cap a week packed with symbolism to remember the silencing of the guns, with memorials held across the world for a conflict that claimed around 18 million lives and involved more than 70 current-day nations.
Macron, a centrist, has repeatedly invoked the war in recent weeks to hammer home his message that rising nationalism around the globe is again destabilising the world.
In a speech on Sunday after the commemorations, he will "remind everyone of the need to defend and reinforce global multilateralism", an aide said this week.
Two figures seen by Macron as responsible for undermining the rules-based world order and its institutions — US President Donald Trump and Russian leader Vladimir Putin — will both be in Paris at the weekend.
Macron reportedly requested that they postpone a planned meeting amid fears that the resulting headlines would overshadow the commemorations at the Arc de Triomphe, a memorial to France's war dead.
"It should be a beautiful period of time," Trump said of his Paris visit before leaving Washington on Friday. "We will have many countries' leadership there, especially since they heard the United States will be there."
The US leader has badly strained the alliance of Western countries since his election in 2016 by pulling out of international agreements covering climate change, Iran's nuclear programme, and missiles.
Putin's decision to annex Crimea in 2014 and re-draw Ukraine's border by force plunged his relations with European leaders into their biggest crisis since the Cold War.
World powers find themselves at loggerheads on a host of issues, from trade to climate change and even the use of chemical weapons — which were first deployed to devastating effect during World War I.
In the Syrian civil war, Russian, American, European and Middle Eastern forces are all in action in a complex web of alliances.
– Fightback against nationalism –
Trump is set to meet Macron for talks on Saturday, but he will snub a conference dedicated to international institutions and global governance on Sunday which has been organised by his French host.
While Macron and Trump struck up a warm relationship initially, particularly during Trump's first visit to Paris as president in July 2017, they have repeatedly clashed since over a growing list of disagreements.
"Their personal relationship is excellent," US National Security Advisor John Bolton told reporters in Paris on Friday.
"There have been disagreements on substantive policy issues, for sure, but that's because leaders pursue what they perceive to be their national interests," he said.
He played down Trump's decision not to attend the inaugural Paris Peace Forum to be opened by Macron on Sunday afternoon along with German Chancellor Merkel and UN Secretary General Antonio Guterres.
https://newlive.vanguardngr.com/2018/10/cfa-societys-conference-to-tackle-nigerias-investment-challenges/
"The president's schedule is tight. There are a lot of pressing issues that the president has to attend to," explained Bolton, a arch-hardliner and advocate of using US power unilaterally.
The Paris Forum is part of the "fightback" against the rising tide of nationalism worldwide, chief organiser Justin Vaisse told AFP in a recent interview.
"The aim of the forum is to show that there are lots of forces in the international system — states, NGOs, foundations, intellectuals, companies — who believe we need a world of rules, an open world and a multilateral world," he said.
Putin and Turkish President Recep Tayyip Erdogan are expected to join a host of European heads of state and African leaders, including Nigeria's President Muhammadu Buhari and Kenya's Uhuru Kenyatta, at the forum.
On Monday and Tuesday, philanthropists, corporate leaders and leading figures from international institutions will debate ways to tackle global challenges such as climate change and policing the internet.
But recent events, particularly Brazil's decision to elect far-right president Jair Bolsonaro, have left some participants more concerned than ever about the future.
"My mood is pretty grim," Jeremy Shapiro, research director at the European Council on Foreign Relations, told AFP.
The forum "is obviously pushing against the tide and it's all the more admirable for that," he said.