Gov. Oluwarotimi Akeredolu of Ondo State on Monday reiterated the commitment of his administration to lift people of the state out of current poverty level in Nigeria.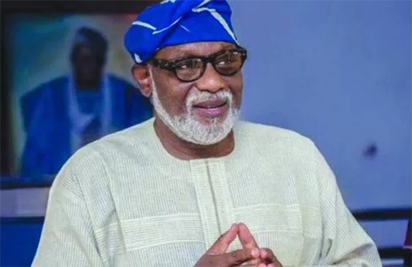 Akeredolu spoke in Akure at the launch of Apalara Micro-Credit Scheme and presentation of N550 million cheque to market women associations, artisans, cooperative societies, youths and farmers.
The governor said that N550 million had been approved and disbursed to various groups and individuals at a single digit interest rate as a demonstration of his determination to end poverty.
"The scheme is to inculcate in our people the spirit to properly utilise credit facilities obtained from the state Micro Credit Agency.
"There is need for them to appreciate the fact that funds disbursed should not be taken as their own share, but as seeds to guarantee a secured future.
"The disbursement sharing formula on gender basis is 65 per cent (N357.5m) to women and 35 per cent (N192.5m) to men which cut across major sectors of the economy.
"I am particularly aware of the strategic importance of women empowerment to good governance, peace at home and their economic contributions through small scale businesses to the total wellbeing of the society," he said.
Akeredolu explained that the major challenge militating against credit delivery system was loan default.
"In credit delivery system, the amount outstanding after recovery determines the degree of success or failure of such loan scheme.
"We have, therefore, evolved a well-articulated credit management system for loan beneficiaries to ensure efficient risk management to guide against defaults, so as to make the scheme sustainable," he said.
The governor emphasised the importance of prompt loan repayment, which he said guaranteed the sustainability of micro-credit scheme in the state.
"This will equally encourage our government to inject more funds into the schemes to enlarge the scope.
"It is heart-warming to note that some beneficiaries have shown genuine commitment and faithfulness in the repayment of their loans.
"We are confident that with the continuous expansion and management of our empowerment programmes, unemployment and poverty in the state will be reduced to the bearest minimum.
"All that we need is the commensurate readiness of our people to fight poverty head-on. We need to re-orientate ourselves to appreciate that there is no royal road to success.
"The route to poverty eradication is mainly through hardwork, efficient management of available financial resources and positive attitude to life," he said.
Responding on behalf of the beneficiaries, Mrs Olufunke Adu, Leader of the All Progressives Congress (APC) and Ondo State Market Women Association, commended the governor's kind gesture aimed at empowering women and eradication of poverty.
Adu assured the governor that the loans would be judiciously expended for the purpose they were meant for and be refunded as and when due to enable others to benefit from the scheme.