A German man who launched a shrapnel bomb attack on the team bus of football club Borussia Dortmund in April 2017 to make money on the club's shares diving was on Tuesday sentenced to 14 years in jail.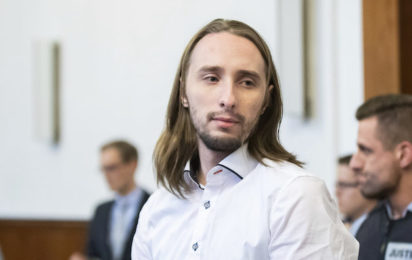 A court in Dortmund found Sergej Wenergold, 29, guilty of 28 counts of attempted murder after he detonated three explosive devices while the bus was en route to the stadium for a Champions League game last year.
After an 11-month trial, the trained electrician, who was born in Russia, was also found guilty of causing an explosion and two counts of causing serious injury after the blasts wounded Spanish defender Marc Bartra and a police officer.
Wenergold had stayed in the same hotel as the team when he remotely triggered the bomb attack on the evening of April 11, 2017 as the bus was heading for a Champions' League quarter-final match against Monaco.
He had hidden in a hedge three explosive devices, each of which contained up to a kilogramme (2.2 pounds) of a hydrogen peroxide mixture and about 65 cigarette-sized metal bolts.
Wenergold had left letters suggesting an Islamist terrorist motive at the scene, sparking initial alarm about a possible jihadist attack.
He had bought put options worth some 26,000 euros ($29,000) — essentially a bet on the club's share price falling — and had hoped to gain half a million euros, said prosecutors.
– 'I would like to apologise' –
Wenergold's defence lawyer Carl Heydenreich insisted his client hoped to spark panic, not to wound or kill people.
Wenergold reportedly drew attention to himself at the hotel, first by insisting on a window room facing the front and then, in the chaos after the blasts, by calmly walking into its restaurant to order a steak.
Police arrested him 10 days after the attack.
Several players of Borussia Dortmund, who currently sit four points clear at the top of the Bundesliga table, gave emotional testimony during the trial about the trauma they suffered.
Defender Matthias Ginter, who now plays for Borussia Moenchengladbach, broke down in tears when he gave evidence about the aftermath of the blasts on board the bus.
"Everyone was lying on the floor. Splinters were flying. There was a lot of smoke. Marc was crying out. We didn't know what would happen next," Ginter told the court in April.
A day after the attack, the team played their postponed game against Monaco and lost, prompting then coach Thomas Tuchel to rail against UEFA for not giving the players time to come to terms with their fear before returning to the pitch.
Wenergold, who confessed to the attack in January, voiced his regret last week when he told the court: "I would like to apologise to everybody."