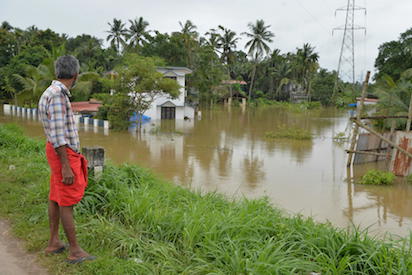 An Indian man watches marooned houses on the outskirts of Kozhikode district, about 385 km north of Trivandrum in the south Indian state of Kerala, on August 17, 2018. Troop reinforcements stepped up desperate rescue attempts in India's flood-stricken Kerala state on August 17 after more than 100 bodies were found in a day and a half, taking the crisis death toll to at least 164. / AFP PHOTO /
Floods destroyed more than 400 hectares (1,000 acres) of rice in Niger's southeastern Diffa region, already beset by deadly attacks by Boko Haram jihadists, the local governor said.
FG approves N60bn for rice subsidy
Nearly 3,000 tonnes of rice worth 717 million CFA francs (more than one million euros, $1.13 million) have been lost as a result, Governor Mahamadou Bakabe said on state television late Sunday.
Grain deficits this year have already threatened food security for thousands of small farmers in Diffa, according to the government.
The UN Office for the Coordination of Humanitarian Affairs said last month that flooding in the semi-desert country had claimed 45 lives since June.
The rains destroyed nearly 17,400 homes and killed more than 33,000 heads of livestock, it said.
The Boko Haram insurgency, launched in northeast Nigeria in 2009, spilled over into Niger in early 2015, leaving hundreds of civilians dead.
The UN says the conflict has pushed more than 300,000 refugees and internally displaced people to the Diffa region.