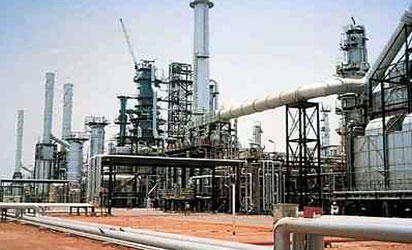 A refinery
By By Dennis UDOMA
THE Department of Petroleum Resources (DPR) has approved the ATC license for the construction of 5,000 bpd modular refinery to Ikwe-Onna Refinery project located in Akwa Ibom State.

The company's official, Modupe Salawu dropped the hint to Vanguard in Uyo saying, the refinery project under the supervision of Minister of State for Petroleum Resources, Mr Ibe Kachikwu would be a flagship for Modular Refineries in the country.
She said that the original equipment manufacturers, Chemex Modular USA and Local Content Companies, Cakasa have moved to site to commence construction work.
https://newlive.vanguardngr.com/2018/11/time-for-hard-measures-to-end-killings/
The project, which ground-breaking was performed in December 20, 2016 by Dr Ibe Kachikwu, is a Special Purpose Vehicle (SPV) under the Public Private Partnership (PPP), designed to encourage local refinery development and, peaceful cooperation with host communities to bring an end to the epileptic petroleum products supply by NNPC, as well as drag on the nation's FOREX reserves.
The modular refinery, sited in a 50.1 hectares of land in Ikwe Community, Onna Local Government Area of the State, on completion will produce about 5000 barrels of oil per day (bpd) start-up, to be beefed up to 20,000 bpd, in the medium term and 100,000 bpd in the long term.
Earlier, the Chairman, Board of Directors of the company, Engr. Bassey Rex said that, the refinery was incorporated in August, 2016 as an indigenous oil and gas group in partnership with Ikwe Community, to enhance the socio-economic development of the state, with full participation of community stakeholders to bring its activities closer to the host communities, while ensuring equally green operations through foreign collaborators.
According to him, the refinery comes with major components such as the Petroleum layouts, Fertilizer Plants, Lubricant Factory, LPG Plant and, Bio-Refinery for integrated waste management through a robust biotechnology advancement, to produce energy from waste products as well as maintain cleaner and safe environment.
Engr. Rex further said: ''our loading bays shall have state of the art E-service system, as we have E-Card mega Filling stations for efficient close loop management and accounting process and, resolution of all prevalent issues of product distribution and safety through our mega Gas Park".
On why the project is sited in Ikwe Community in Onna, he disclosed that: ''Akwa Ibom being one of the major oil producing states in Nigeria also doubles as the most peaceful oil producing states, with reasonable capacity to meet volume demand for several refineries to flourish.
''Its unique topography and water-ways connection to the open sea makes accessibility a plus for industrialization where our mission and vision will be realized."
https://newlive.vanguardngr.com/2018/10/akwa-ibom-lawmaker-dumps-pdp-for-apc-assures-ekere-of-victory/