The Immediate past Miss Nigeria, Chioma Obiadi has urged future beauty queens to focus more on their missions and visions  rather than on the material gains attached to being a queen.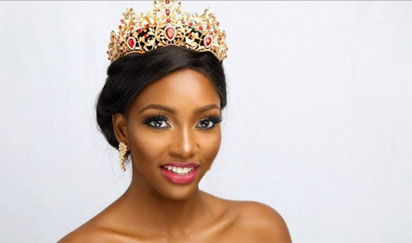 Obiadi, the 40th Miss Nigeria, 2016 to 2017,  made the call ahead of the Miss Nigeria contest, which holds on Sunday in Lagos state.
Newsmen report that 18 lucky finalists, out of 40 semi finalists, who were selected from over 1,000 applicants, would participate at the 2018 Miss Nigeria contest in Eko Hotels and Suites, Lagos.
Video: Watch Oba's new wife, Naomi ministering in church
Obiadi who retained her pet project on "Green girl", told journalists in Lagos on Saturday that one of the benefits of becoming Miss Nigeria was that it exposes the winners to new opportunities.
The former beauty queen, whose project centered on projecting decency of environment and dignity of female gender, noted that being part of the contest was a unique opportunity.
Atiku is a true patriot, tested democrat and nationalist – Speaker Dogara
" Having such an opportunity to be part of Miss Nigeria contest is unique . It also creates an avenue for you to pursue your dreams of making it in life," she said.
The 23-year-old queen said: "I think it is one of the best platforms you can have as a young girl..
Obiadi, who is a graduate of Geography, Nnamdi Azikiwe University, Awka, Anambra, enjoined beauty aspirants to face the contest with good sportsmanship spirit and zeal.
The beauty queen further tasked young girls to shun the craze of getting rich quick by traveling abroad.
" I think going abroad doesn't guarantee you wealth and it is wiser to get as educated as you can here at home because education is paramount in the present time," she said.
Angry reactions trail beauty queens' visit to Owerri
She  commended the organisers for a consistent professional planning all through 42 years which had produced 41 queens.