By Elizabeth Uwandu
BENIN—Edo-based ex-militant agitators, who are components of the third phase of the Presidential Amnesty Programme, have stated that they cannot be deceived.
It is impossible for APC to wrest power from PDP in Delta — Osawota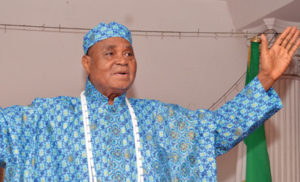 They made the statement while throwing their total support behind the aspiration of Barrister Gabriella Omosede Igbinedion to return to the National Assembly in 2019.
The ex-agitators took the step after an enlarged meeting hosted by their leaders, Sampson Funpuwei (National Vice Chairman), Perete Amokachi  (State Chairman)  and Abiodun Edah(Public Relations Officer) in Benin City, last weekend.
Endorsing the second tenure bid of Barrister Omosede, who represents Ovia North East and South West Federal Constituency in the House of Representatives, the ex-agitators alluded to the fact that her assumption of the position since 2015 has been a blessing to the people of the constituency.
They stressed that she has impacted positively on the living standard of the people via her quality representation.
"There is no part of our constituency that has not benefitted from the quality representation that Hon. Igbinedion has been offering us. For the first time in the present political dispensation (since 1999) we are experiencing what qualitative representation should be.
"She is a real blessing to us and as such we are telling her that we are fully behind her and we are using this opportunity to advice all those contesting against her that they have come to a dead end in their political career. We cannot be deceived."