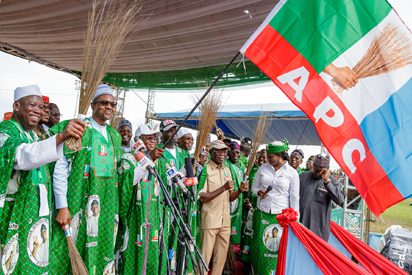 By Anayo Okoli
UMUAHIA—THE crisis rocking the Abia State chapter of the ruling All Progressives Congress, APC, has deepened and taken an expanded dimension with a chieftain and the factional governorship candidate of the party in the State, High Chief Ikechi Emenike slamming a N1 billion defamation suit against the factional chairman of the party, Hon. Donatus Nwankpa for allegedly slandering him.
Emenike claimed that Nwankpa had in a radio programme in Umuahia, alleged that he and Justice Collinton Okoroafor of the State High Court, Okpuala Ngwa, where the Abia APC leadership dispute is pending, worshipped in an Abuja church shortly after the Judge gave an interlocutory ruling in favour of the Emmanuel Ndukwe faction of the party which Emenike belongs to.
This allegation, Emenike said, has caused him huge embarrassment and belittled his reputation before his friends and associates, including foreigners.
According to Emenike, he does not know the Judge in person as he has never met him other than his name which he reads from court papers brought by his lawyers and from newspapers that covered proceedings in his court.
2019: APC drags INEC to court, insists on participating in Zamfara elections
Irked by the allegation which he said has injured his hard earned reputation, Emenike lodged a suit at Ohafia High Court with the claim that he has the slanderous statement on tape to be tendered during the trial proper.
In the Suit No HOH/47/2018, Emenike is demanding a whopping sum of N1 billion from Nwankpa as "general damages for slander".
He is also praying the court to grant him a "perpetual injunction restraining the 1st defendant [Nwankpa] from further uttering the said slanderous words about or concerning the plaintiff".